ACS 2010 EEO Workforce Software & Data Access Package

The ACS 2010 EEO/workforce special tabulation serves as the primary external benchmark for comparing the race, ethnicity, and sex composition of an organization's internal workforce, and the analogous external labor market, within a specified geography and job category. The EEO/workforce data are based on a special tabulation of the American Community Survey (ACS) 2010 5-year respondent data. This section reviews the ProximityOne EEO/Workforce software and package. See main page http://proximityone.com/acs0610_eeo.htm for additional information.

EEO/Workforce Software and Data Access/Analysis Package
The ProximityOne EEO/Workforce software and package is a Windows-based application. Operations using the EEO/Workforce software are illustrated in this section. The EEO/Workforce software provides access to all EEO/workforce special tabulation tables with both report generation and database tools. The EEO/Workforce software also provides the ability to access a wider array of subject matter from Census 2010, ACS 2010 and ACS 2011 for all national, state, county, metro, and city/place geographies (not just those inlcuded in the special tabulation). The EEO/Worforce software may be use as an independent application or as a resource integrated into the ProximityOne CV XE GIS geographic information system software. When the EEO/Workforce software is used as a CV XE GIS component, workforce patterns can be viewed in maps.

The EEO/Workforce Package is available now. The package is sold/licensed for use on a perpetual basis. A one-year support program is included and optionally extendable. The support program provides technical support by phone, Web and e-mail and upgrades to the software. Subsequent year updates are optionally available for an additional fee.

Contact us to learn more about using the ProximityOne ACS EEO data access, analysis and reporting package. Mention "ProximityOne ACS EEO tools" in the text section. Or, call us at (888)364-7656.

Using the ProximityOne EEO/Workforce Package
The following views illustrate use of the ProximityOne EEO/Workforce Package using the Table 1W -- Detailed Census Occupation by Sex and Race/Ethnicity for Worksite Geography.

Start-up View
At start-up, the default table for the default geography (Arizona by county in this example) are loaded into the data grid. The data grid shows a record for a combination of a geographic area and occupation. The subject matter items (in this case employment by gender and race/ethnicity) are displayed in the "T" columns to the right of the occupation code (OCC) column. The value for "T01" (total workforce at worksite geography) for "OCC" value 0000 (all occupations) is 17,955 for the geography showing in line 1 for GEOID1 0500000US04001 or Apache County, AZ. The data shown in the grid are the raw data as converted into a database structure from Census sourced files (not directly usable in original form).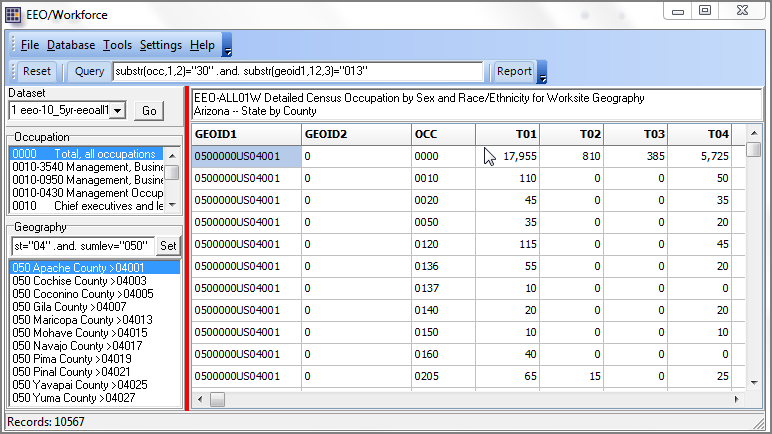 Applying Queries to Data Grid
SQL-like queries may be applied to the dataset for viewing subset geography and occupations. In the following example, the Query button is clicked; the SQL query substr(occ,1,2)="30" and substr(geoid1,12,3)="013" is applied to the dataset/grid. In this example, the query says "show records where the first two characters of the occupation code are "30" and the county code is "013". Stated differently, records are displayed where the healthcare occupations are any of:
3000 Chiropractors
3010 Dentists
3030 Dieticians and nutritionists
3040 Optometrists
3050 Pharmacists
3060 Physicians and surgeons
for the workforce by work site being Maricopa County, AZ. See more about the ACS EEO occupations. The updated grid contents are displayed as shown below.



Showing/Viewing/Saving Profiles
View the data in structured profiles by using the occupation and geography listboxes to left of data grid. The following example shows a profile instantly displayed when the occupation 3060 (see in upper listbox) is selected and the geographic area 04013, Maricopa County, AZ, is selected (see in lower listbox). The partial view of the profile displayed shows all items in this table organized with descriptive stubs. By click the Export button, the profile can be saved in Excel format, ready for next step usage.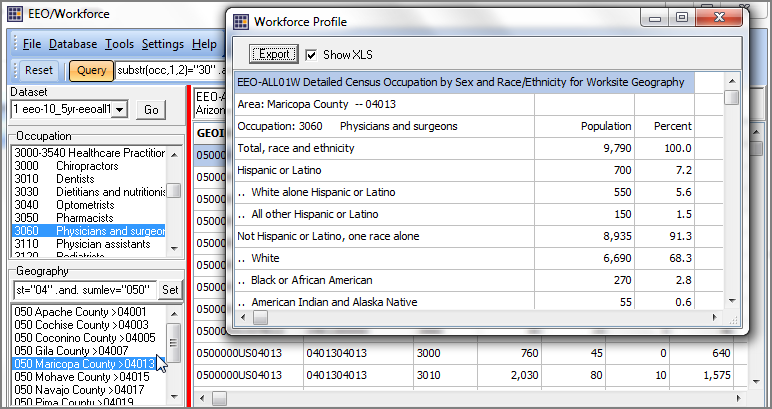 Database Operations
The ProximityOne ACS EEO software also provides database browsing, filtering, viewing and exporting as shown in the following view. The view below is similar to the the way the data are presented in the first view above. But here, the view is the raw database; it can easily be sorted, filtered and saved as a subset file.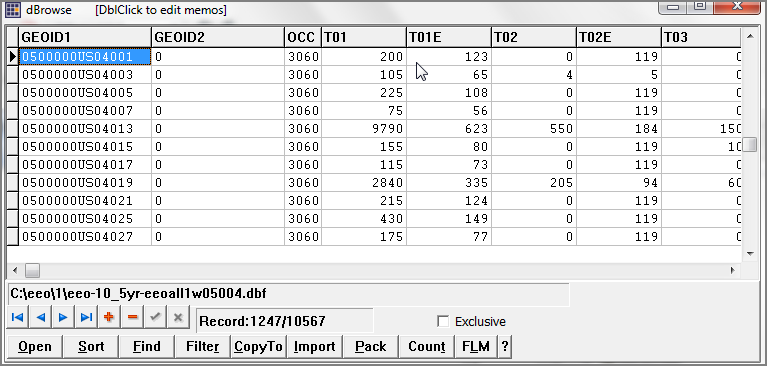 Reference Materials
These documents and reference materials are accessible via the Workforce module:
- ACS2010_EEO_FTP_Techdoc.pdf
- EEO-2010-5-Year-subject-table-shells.xls
- EEOTabulation2006-2010-Documentation-04.26.2013.pdf
- EEOTabulation2006-2010FTPSiteTableReferences.xlsx

- ACS 2011 5 year estimates -- table shells
- ACS 2011 5 year estimates -- technical documentation

Support Using these Resources
Learn more about accessing and using demographic-economic data and related analytical tools. Join us in a Data Analytics Lab session. There is no fee for these one-hour Web sessions. Each informal session is focused on a specific topic. The open structure also provides for Q&A and discussion of application issues of interest to participants.

ProximityOne User Group
Join the ProximityOne User Group to keep up-to-date with new developments relating to metros and component geography decision-making information resources. Receive updates and access to tools and resources available only to members. Use this form to join the User Group.

Additional Information
ProximityOne develops geodemographic-economic data and analytical tools and helps organizations knit together and use diverse data in a decision-making and analytical framework. We develop custom demographic/economic estimates and projections, develop geographic and geocoded address files, and assist with impact and geospatial analyses. Wide-ranging organizations use our tools (software, data, methodologies) to analyze their own data integrated with other data. Follow ProximityOne on Twitter at www.twitter.com/proximityone. Contact us (888-364-7656) with questions about data covered in this section or to discuss custom estimates, projections or analyses for your areas of interest.