GIS News
-- topics on GIS tools, methods, geostatistical data and data analytics

GISNews is a Google Group maintained by Warren Glimpse/ProximityOne. It is a forum intended for individuals interested in accessing and using Geographic Information System (GIS) software, tools, data and applications. Participants receive updates on these topics, data analytics and access to GIS-related resources. There is no fee.

See about related ProximityOne Groups.

GISNews group participants receive e-mail updates and may access tools and resources posted/announced such as GIS projects described at Mapping Statistical Data. Updates/postings include information the Census Bureau TIGER/Line database and associated updates, augmentations, access and applications.

GISNews is a member-based group. Ask to Join. GISNews is intended for those interested in GIS but with little or no experience. GISNews is also intended for developers and GIS specialists.

This page provides:
• an overview portal to GISNews accessible by anyone
• GISNews Digest (shown below; visible only to logged in members)
• supplementary details, graphics and download/access information.

GISNews Digest -- visible only to logged in members



Smoothed/Non-Smoothed TIGER/Line Shapefile; relates to 4/15/17 GISNews posting
This section illustrates use of smoothed versus non-smoothed TIGER/Line shapefiles. Block group geography is used here; other geographies share the same characteristics and differences between the smoothed and non-smoothed versions. The California state-by-block group shapefile is used here with zoom-in to San Francisco county.

Source files:
2016 vintage TIGER/Line -- California Block Groups -- Smoothed
http://www2.census.gov/geo/tiger/GENZ2016/shp/cb_2016_06_bg_500k.zip
- blue boundaries in view below
- layer on top
2016 vintage TIGER/Line -- California Block Groups
http://www2.census.gov/geo/tiger/TIGER2016/BG/tl_2016_06_bg.zip
- red boundaries in view below
- layer below smoothed layer; name highlighted in legend panel at left

San Francisco County Illustration view.
- red boundaries (non-smoothed) extend into water; blue boundaries trimmed at shoreline.
- re BG at pointer shown in mini-profile; partly in water and partly on land.
- note mix of red and blue BG boundary lines within county; due to smoothed variations of BG boundaries.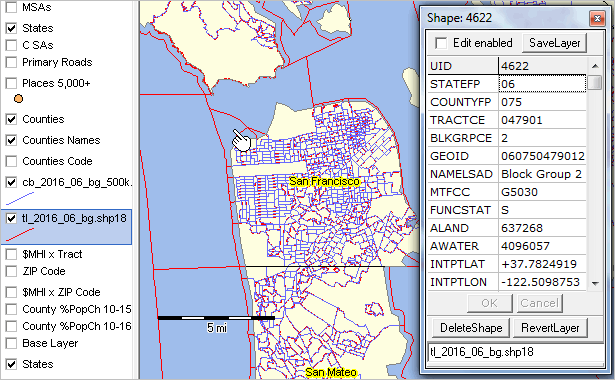 .. view developed with ProximityOne CV XE GIS and related GIS project.
.. download this ready-to-use GIS project/datasets via the Mapping Statistical Data section.


Support Using these Resources
Learn more about accessing and using demographic-economic data and related analytical tools. Join us in a Data Analytics Lab session. There is no fee for these one-hour Web sessions. Each informal session is focused on a specific topic. The open structure also provides for Q&A and discussion of application issues of interest to participants.

Additional Information
ProximityOne develops geodemographic-economic data and analytical tools and helps organizations knit together and use diverse data in a decision-making and analytical framework. We develop custom demographic/economic estimates and projections, develop geographic and geocoded address files, and assist with impact and geospatial analyses. Wide-ranging organizations use our tools (software, data, methodologies) to analyze their own data integrated with other data. Follow ProximityOne on Twitter at www.twitter.com/proximityone. Contact us (888-364-7656) with questions about data covered in this section or to discuss custom estimates, projections or analyses for your areas of interest.