Housing Value & Market Characteristics
-- insights into patterns and trends.

Data on housing patterns and trends are essential for wide-ranging decision-making applications. This section provides an overview of the ProximityOne Housing Value & Market Characteristics (HVMC) quarterly updates. The quarterly HVMC includes a summary of housing patterns and trends for counties, metros, states and the U.S. Each issue ties together disparate data and information released from multiple sources providing an integrated view of what's happening.

The U.S. housing stock grew by more than 1 million in 2017, reaching over 137 million units. The growth rate of 0.8 percent from 2016 to 2017 was slower than the 1.4 percent a decade ago between 2006 and 2007. The national housing stock increased by 5.7 million units (4.3 percent) since April 1, 2010. Housing unit growth in 2017 remained below 2007 levels in nearly all states except North Dakota, South Dakota, Iowa, Nebraska and D.C.

• Use the interactive table below to examine housing trends & patterns from 2010-2017.
• View selected metros by county to examine metro change by component county.
• Of the 3,142 counties, 338 experienced a decrease in housing units, 2010-2017.
• Of the 382 MSAs, 10 experienced a decrease in housing units, 2016-17.
• See about related data and tools below.

Patterns of Housing Unit Change by Metro: 2010-2017
The graphic below shows patterns of housing units change from 2010 to 2017 for the 382 Metropolitan Statistical Areas (MSAs) Click graphic for larger view with details.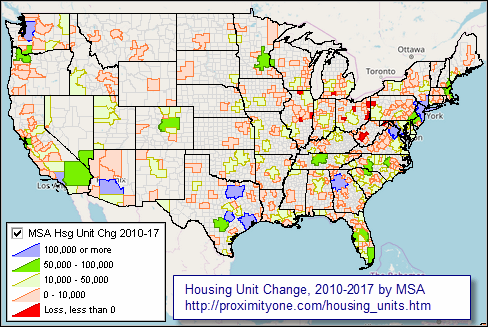 - view developed using CV XE GIS software and associated GIS project.
- create similar maps for counties, all/selected CBSAs, or states using CV XE GIS and associated GIS project.

Housing Units by County, Metro & State: 2010-2017 Interactive Table
Click column header to sort; click again to sort other direction.
Initial view order: U.S., states, metros. See usage notes below table.
See related interactive tables


Usage Notes
To select only MSAs, use "MSA" (case sensitive, without quotes) in the Find in Name edit box, then click Find in Name.
• Click on a column header to sort on that column; click column header again to sort in other direction.
• Click ShowAll button to show all areas and restore full set of data view.
• Use horizontal scroll bar at base of table to scroll left-right.
• To view geographies in one state:
select state in dropdown below table; click ShowAll between selections.
• Find in Name: key in partial area name in text box to right of Find in Name button.
then click button to locate all matches (case sensitive).
• Find CBSA: key in CBSA code (5 characters) in text box to right of Find CBSA.
then click button to locate geographies that have this CBSA code.
• See related ranking tables.

Column Headers
• AreaName
• State
• Summary Level
• GEOID -- geographic id
• CBSA -- core-based statistical area code
• Housing units as of Census 2010
• Housing units estimate: 7/1/2010
• Housing units estimate: 7/1/2011
• Housing units estimate: 7/1/2012
• Housing units estimate: 7/1/2013
• Housing units estimate: 7/1/2014
• Housing units estimate: 7/1/2015
• Housing units estimate: 7/1/2016
• Housing units estimate: 7/1/2017
• Housing Units Change 2010 to 2017
• Housing Units Percent Change 2010 to 2017
• Housing Units Change 2016 to 2017
• Housing Units Percent Change 2016 to 2017

Metros and Core-Based Statistical Areas [goto top]
Metropolitan Statistical Areas (MSAs) and Micropolitan Statistical Areas (MISAs) are geographic entities delineated by the Office of Management and Budget (OMB) for use by Federal statistical agencies in collecting, tabulating, and publishing Federal statistics. The term "Core-Based Statistical Area" (CBSA) refer to the collective set of MSAs and MISAs. A MSA contains a core urban area of 50,000 or more population. A MISA contains an urban core of at least 10,000 (but less than 50,000) population. Each MSA or MISA consists of one or more counties and includes the counties containing the core urban area, as well as any adjacent counties that have a high degree of social and economic integration (as measured by commuting to work) with the urban core. The availability of data tabulated by MSA and MISA (and often less available for all counties or all cities) make MSAs and MISAs popular for the analysis of demographic, economic and business data.

Determining CBSA Code
• Find name and code from list.
• Find name in table and view corresponding CBSA code.
• Find name and code from list.
• Key in an address here to find codes/names based on address.
• Key in an address here to view CBSA containing that address.

Related Housing Market Data & Analytical Resources
• Metro Situation & Outlook Reports - click link in column 3 to view that metro
• 2010-2017 annual population estimates and trends
• ACS 2016 1-year demographic-economic tables - metro/CBSA
• Housing Price Index
• ProximityOne Data Services: access/integrate these with other data
• CV XE GIS software: data analytics, maps, geospatial analysis
• See related Interactive Ranking Tables

Support Using these Resources .. goto top
Learn more about demographic economic data and related analytical tools. Join us in a Data Analytics Lab session. There is no fee for these Web sessions. Each informal session is focused on a specific topic. The open structure also provides for Q&A and discussion of application issues of interest to participants.

ProximityOne User Group .. goto top
Join the ProximityOne User Group to keep up-to-date with new developments relating to geographic-demographic-economic decision-making information resources. Receive updates and access to tools and resources available only to members. Use this form to join the User Group.

Additional Information .. goto top
ProximityOne develops geographic-demographic-economic data and analytical tools and helps organizations knit together and use diverse data in a decision-making and analytical framework. We develop custom demographic/economic estimates and projections, develop geographic and geocoded address files, and assist with impact and geospatial analyses. Wide-ranging organizations use our software, data and methodologies to analyze their own data integrated with other data. Follow ProximityOne on Twitter at www.twitter.com/proximityone. Contact ProximityOne (888-364-7656) with questions about data covered in this section or to discuss custom estimates, projections or analyses for your areas of interest.