---


School Attendance
Zones Main




Situation & Outlook
- S&O Desktop
- S&O Profiles|Reports
> Comparative
> Narrative
> Site Analysis

Data Resources Guide
- projections to 2060

Related Sections
- Applications Gallery
- States
- Congressional District
- School Districts
- Counties
- Cities/Places
- Tracts/Neighborhoods
- Block Groups
- Census Blocks

- ZIP Codes
- Urban Areas

Estimates-Projections
- 2060 Demographic
... all county interactive table
- 2030 Demographic-Economic
- Single Year of Age

Ranking Tables
National Scope
Demographic Change
2000-2010
- States
- Metros
- Congressional District
- School Districts
- Counties
- Cities/Places
- Census Tracts

School Attendance Zone Demographics
-- Wichita Unified School District, Kansas


Decision-Making Information


ProximityOne
information resources & solutions
(888) DMI-SOLN
(888) 364-7656






See DMI Blog
Examining Neighborhood Change





This section provides a visual analysis of demographic-economic patterns of Wichita Unified School District, KS school attendance zones (SAZ). The maps were developed using the CV XE GIS and associated SAZ geodemographic database. Develop wide-ranging variations of these maps and tabular data on your own computer; integrate your own data; add other types of geography; zoom-in to specific schools and streets. Contact us for more information (mention school attendance zones).

Use the interactive table at http://proximityone.com/saz.htm to view, compare, rank SAZs based on demographic attributes provided for each SAZ. Unlike enrollment and administratively reported data for schools, these demographic-economic data are for the SAZ total population including age, gender, race/origin, educational attainment, employment by industry/occupation, income/poverty, language spoken, housing age, housing structure, housing value, housing value , among many other attributes. See more about these data (below, in this section).

Wichita, KS Elementary School Attendance Zones
-- patterns of median household income; see $MHI intervals by color in legend left of map
-- elementary schools shown as blue markers; school district: black boundary
-- a query is used to show only elementary SAZs; all SAZ boundaries (eg, ES, MS, HS) are maintained.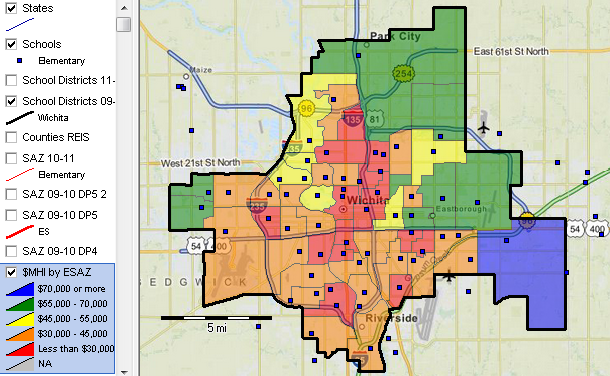 Wichita, KS Elementary School Attendance Zones
-- SAZs with red boundaries; names as yellow labels; total population as white labels
-- elementary schools shown as blue markers




About the Data & Usage
School attendance zones are part of an important collection of small area geographies useful to understand demographic-economic patterns, characteristics and trends. Related geographies include census blocks, census block groups, census tracts, ZIP code areas and school districts.

A School Attendance Zone (SAZ) is a geographic area served by an individual K-12 school. SAZ geographic and demographic-economic data are used by schools, school districts, researchers, policy makers and other stakeholders to examine relationships between areas served by schools and related geographic areas (e.g., city/county). Wide-ranging decision-making is made possible by visually examining school catchment areas with related geography and demographic-economic measures. Needs of the school age population can be better analyzed resulting in possible improved educational outcomes. Characteristics of the population served by a school, and its special needs, can be better understood. Awareness of the number of students in areas hit hard by natural disasters could aid relief efforts; the Department of Homeland Security can use this information for planning disaster relief programs in case of a national disaster. These resources can aid school districts in analyzing need and distributing funds/resources to schools within its system.

Additional Information
ProximityOne develops geographic-demographic-economic data and analytical tools and helps organizations knit together and use diverse data in a decision-making and analytical framework. We develop custom demographic/economic estimates and projections, develop geographic and geocoded address files, and assist with impact and geospatial analyses. Wide-ranging organizations use our tools (software, data, methodologies) to analyze their own data integrated with other data. Follow ProximityOne on Twitter at www.twitter.com/proximityone. Contact ProximityOne (888-364-7656) with questions about data covered in this section or to discuss custom estimates, projections or analyses for your areas of interest.