Single Year of Age Demographics
Decision-Making Information

ProximityOne
information resources & solutions
(888) DMI-SOLN
(888) 364-7656






Visual analysis with ProximityOne tools
click graphic for info; hover to pause









Decision-Making Information Blog
Power of Combining Maps with Data

Support & Technical Assistance
help using these resources



Single year of age (SYOA) demographics are single year of age population (e.g., age 1, age 2, etc.) data summarized for a geographic area such as a county, census tract or ZIP code area. This section is part one of three sections and is focused on tools and methods to access, integrate and analyze SYOA data. The second part is focused on integrating these data with other data and use of GIS and geospatial analysis. The third part reviews how these data are used to develop projections and access to/use of projections.

Atlanta Metro; Population Age 0 per 1,000 Population by ZIP Code Area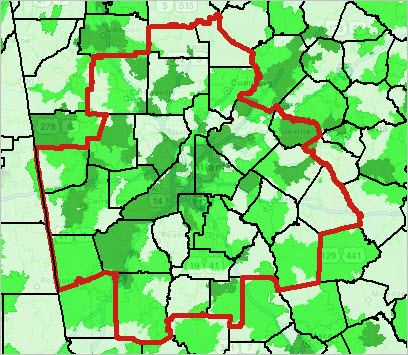 Crude birth rate approximation: population age 0 relative to 1,000 population (2010)
Darker green: rate 16 or more; medium green: rate 12-16; light green: less than 12
Click graphic for larger view, zoom-in, labeled with ZIP codes and rate.
View developed with CV XE GIS.

ZIP Code Area Detailed Age-Race/Origin Profiles
View illustrative ZIP Code area SYOA demographic profiles: (scroll section)


•

10021

New York County, NY

•

11222

Kings County/Brooklyn, NY

•

20850

Montgomery County, MD

•

22305

Alexandria, VA

•

28212

Mecklenburg County, NC

•

33426

Palm Beach County, FL

•

48214

Wayne County, MI

•

50125

Warren County, IA

•

53705

Dane County, WI

•

60647

Cook County, IL

•

64112

Jackson County, MO

•

64772

Vernon County, MO

•

66749

Allen County, KS

•

67214

Sedgwick County, KS

•

72712

Benton County, AR

•

75205

Dallas County, TX

•

77077

Harris County, TX

•

77375

Harris County, TX

•

78207

Bexar County, TX

•

80909

El Paso County, CO

•

84115

Salt Lake County, UT

•

85258

Maricopa County, AZ

•

87501

Santa Fe County, NM

•

89104

Clark County, NV

•

90210

Los Angeles County, CA

•

92037

San Diego County, CA

•

90210

Los Angeles County, CA

•

96815

Honolulu County, HI

•

97201

Multnomah County, OR

•

98007

King County, WA


Using SYOA Demographics
Except for possibly the single year of age 0, less than one year of age, single year of age demographics are intrinsically not in high demand. The fact that the single year of age demographics can be aggregated to standardized age cohorts and custom age groups is another matter entirely. Analysts and researchers often need current estimates or projections for age-gender-race/origin groups that are not available from pre-planned tabulations.

Uses of these SYOA data include the basics of understanding the size of a specific age group relative to the total population. Or, how the size of a total population age group compares among genders or a specific race/origin. There are a myriad of more focused applications such as estimating voter propensities/outcomes for certain combinations of age by gender by race/origin combinations. What single year of age data are available and how can they be used to meet these needs?

SYOA Data Options
The only Census Bureau-sourced option for SYOA county or sub-county geography data from Census 2010 forward is Census 2010. Age-related data from the American Community Survey (ACS) exist only for age groups (other than a few selected single year tabulations). Age-related data from the Census Bureau model-based annual estimates (county-up) are only available at the 5-year age cohort level. Most SYOA data (covering each age to age 99 and 100 and over) are further broken out only by gender and race/origin. That is, there are no SYOA summary data for other attributes such as foreign born for each/all ages. Census 2010 and ACS Public Use Microdata Sample data can be used to tabulate/estimate SYOA data with extended attributes though 1) such estimates can only be developed for areas 100,000 population or more and 2) the thinness of number of cases generally makes this infeasible.

The National Center for Health Statistics (NCHS/NVSS) provides SYOA data for county geography. These data are controlled to Census Bureau annual model-based estimates (not released by Census). The NCHS "bridge estimates" data are available annually 2010 forward (2013 estimates available as of March 2015). See more information.

ProximityOne provides census tract, ZIP code area and county-up geography SYOA estimates and projections to 2020. See more information about 5-year projections and projections to 2060.

Census 2010 SYOA
The Census-sourced single year of age demographics for sub-county areas are from the Census 2010 Summary File 1 (SF1). The Census 2010 SF1 "PCT012" (PCT: Population Census Tract and higher geography) tables provide single year of age by gender by race/origin population data for U.S. national scope census tract, ZIP code area and higher level geography. See more about the content and structure of the PCT012 tables.

SYOA-based profiles based on the PCT012 data for ZIP Code area 77077 (Houston, TX) are shown below. The tables have been developed using the ProximityOne Modeler2 software (more below).

Table 1. Single Year of Age by Race/Origin; 2010; ZIP Code Area: 77070 -- scroll section

Age
Total
White
alone
Black
alone
AIAN /1
alone
Asian
alone
NHOPI /2
alone
Other race
alone
Two or
more races
Hispanic
any race
Total population
46,017
31,034
5,648
302
4,154
36
3,484
1,359
10,760
Age 0
678
369
97
4
79
0
81
48
221
Age 1
711
392
105
8
72
1
75
58
250
Age 2
670
403
68
3
88
0
69
39
218
Age 3
708
384
114
10
81
0
69
50
238
Age 4
669
364
111
6
82
1
65
40
214
Age 5
630
361
97
5
71
0
59
37
204
Age 6
661
383
93
7
61
0
71
46
229
Age 7
595
342
96
2
64
0
52
39
190
Age 8
592
354
92
1
50
0
64
31
199
Age 9
632
347
115
7
55
0
70
38
215
Age 10
647
396
98
8
54
1
52
38
190
Age 11
572
349
87
4
45
0
58
29
179
Age 12
597
380
78
5
43
1
62
28
215
Age 13
608
373
102
7
47
0
49
30
181
Age 14
620
376
102
3
42
0
68
29
196
Age 15
606
360
105
4
46
1
65
25
189
Age 16
640
404
100
4
40
1
63
28
192
Age 17
639
419
95
6
47
1
46
25
172
Age 18
588
373
84
4
42
0
57
28
179
Age 19
522
344
64
6
43
1
53
11
162
Age 20
512
310
82
4
42
0
60
14
164
Age 21
578
333
108
5
48
1
69
14
169
Age 22
651
390
105
11
47
1
81
16
211
Age 23
691
452
98
1
40
1
85
14
204
Age 24
774
476
110
5
68
0
91
24
208
Age 25
792
476
134
7
68
4
71
32
201
Age 26
834
480
134
5
122
0
80
13
205
Age 27
807
482
126
3
98
0
78
20
208
Age 28
815
461
113
1
134
0
87
19
211
Age 29
805
468
145
8
93
1
76
14
195
Age 30
791
436
123
6
100
2
100
24
226
Age 31
738
429
95
9
125
1
59
20
189
Age 32
692
418
105
4
73
0
73
19
184
Age 33
679
395
106
2
77
1
78
20
203
Age 34
724
445
86
4
95
0
73
21
211
Age 35
696
427
94
3
94
0
63
15
179
Age 36
662
366
101
5
105
0
71
14
178
Age 37
658
390
75
6
95
0
70
22
195
Age 38
700
432
96
4
91
1
52
24
176
Age 39
791
507
116
7
88
1
58
14
194
Age 40
708
462
84
3
86
0
51
22
167
Age 41
649
435
70
4
78
0
50
12
169
Age 42
596
403
65
3
60
0
54
11
161
Age 43
594
404
65
5
61
0
49
10
136
Age 44
623
441
76
6
49
0
38
13
139
Age 45
626
448
67
10
42
3
40
16
128
Age 46
720
531
78
2
48
4
43
14
152
Age 47
654
477
61
5
56
0
38
17
117
Age 48
639
458
88
4
43
0
31
15
119
Age 49
631
470
72
2
45
0
29
13
118
Age 50
663
481
72
2
60
0
32
16
105
Age 51
687
517
76
2
51
2
30
9
99
Age 52
680
526
64
2
51
0
30
7
96
Age 53
618
473
57
5
42
0
30
11
93
Age 54
674
539
68
1
41
0
20
5
78
Age 55
622
498
33
5
48
0
26
12
83
Age 56
628
500
56
6
41
1
21
3
81
Age 57
575
483
32
5
32
0
15
8
67
Age 58
524
424
51
3
22
0
19
5
67
Age 59
512
420
35
0
35
0
14
8
59
Age 60
462
383
35
1
29
0
10
4
52
Age 61
473
390
32
4
32
0
9
6
58
Age 62
435
369
26
2
26
0
7
5
43
Age 63
477
414
19
4
23
2
9
6
51
Age 64
339
291
23
2
13
0
7
3
36
Age 65
338
295
18
2
17
2
2
2
26
Age 66
362
321
16
0
18
0
3
4
23
Age 67
301
268
15
0
13
0
2
3
22
Age 68
260
228
9
0
14
0
5
4
20
Age 69
251
225
11
0
10
0
4
1
29
Age 70
204
175
11
0
14
0
1
3
14
Age 71
194
169
9
1
7
0
7
1
22
Age 72
164
143
6
2
9
0
3
1
16
Age 73
180
144
11
2
13
0
9
1
27
Age 74
151
133
9
1
7
0
1
0
12
Age 75
161
145
8
0
3
0
3
2
19
Age 76
148
130
8
1
6
0
2
1
5
Age 77
147
131
9
0
5
0
2
0
17
Age 78
126
113
5
0
6
0
1
1
13
Age 79
113
97
4
0
8
0
3
1
7
Age 80
121
110
3
0
4
0
3
1
14
Age 81
105
99
5
0
0
0
0
1
5
Age 82
103
89
2
1
10
0
0
1
7
Age 83
111
100
4
0
4
0
2
1
10
Age 84
108
93
7
0
2
0
1
5
8
Age 85
82
73
3
0
4
0
1
1
5
Age 86
97
93
0
0
3
0
1
0
5
Age 87
82
76
3
0
2
0
1
0
5
Age 88
66
63
1
0
1
0
1
0
3
Age 89
61
58
1
0
2
0
0
0
3
Age 90
46
42
2
0
1
0
1
0
2
Age 91
38
35
1
0
1
0
0
1
1
Age 92
31
30
1
0
0
0
0
0
1
Age 93
19
16
1
0
1
0
0
1
0
Age 94
21
19
2
0
0
0
0
0
0
Age 95
15
14
1
0
0
0
0
0
1
Age 96
11
11
0
0
0
0
0
0
0
Age 97
3
2
0
0
0
0
0
1
0
Age 98
5
5
0
0
0
0
0
0
0
Age 99
3
3
0
0
0
0
0
0
0
Age 100-104
4
3
1
0
0
0
0
0
0
Age 105-110
1
0
1
0
0
0
0
0
0
Age 110 up
0
0
0
0
0
0
0
0
0
1/ AIAN: American Indian/Alaska Native

2/ NHOPI: Native Hawaiian/Other Pacific Islander

Source: ProximityOne --

http://proximityone.com/syoa.htm

; based on

Census 2010 Summary File 1


Table 2. Age by Race/Origin; Age Groups; 2010; ZIP Code Area: 77070

Age
Total
White
alone
Black
alone
AIAN /1
alone
Asian
alone
NHOPI /2
alone
Other race
alone
Two or
more races
Hispanic
any race
Total population
46,017
31,034
5,648
302
4,154
36
3,484
1,359
10,760
Age 0-4
2,059
1,164
270
15
239
1
225
145
689
Age 5-9
3,263
1,834
511
30
359
1
316
212
1,075
Age 10-14
3,040
1,826
470
25
247
2
306
164
998
Age 15-19
3,113
1,932
504
24
222
3
291
137
930
Age 20-24
2,851
1,750
443
30
222
3
320
83
885
Age 25-29
3,898
2,366
602
21
396
5
405
103
1,026
Age 30-34
3,841
2,212
581
28
525
4
395
96
1,005
Age 35-39
3,419
2,023
462
20
466
1
355
92
966
Age 40-44
3,444
2,239
431
21
403
2
265
83
867
Age 45-49
3,217
2,301
347
28
256
7
208
70
672
Age 50-54
3,300
2,452
372
12
250
2
152
60
537
Age 55-59
3,117
2,493
246
22
204
1
112
39
402
Age 60-64
2,406
1,986
179
10
144
0
59
28
279
Age 65-69
1,817
1,589
91
8
84
4
23
18
158
Age 70-74
1,073
940
46
3
54
0
20
10
101
Age 75-79
787
683
45
4
34
0
17
4
80
Age 80-84
568
508
19
1
28
0
7
5
46
Age 85 up
804
736
29
0
21
0
8
10
44
1/ AIAN: American Indian/Alaska Native

2/ NHOPI: Native Hawaiian/Other Pacific Islander

Source: ProximityOne --

http://proximityone.com/syoa.htm

; based on

Census 2010 Summary File 1


Modeler2 Software
The Modeler2 software has been developed by ProximityOne to create demographic-economic estimates and projections at the sub-county geographic levels including census tracts and ZIP code areas. Annual estimates and projections are developed for 2010 through 2020 by single year of age, and for age groups, by census tract and ZIP code area.

The Modeler2 software can also be used to develop Census 2010-based SYOA profiles such as those shown above. While the Census 2010 PCT012 tables provide the basic data needed to develop these profiles, there is a lot that lies between the data existing and the development/availability of consumable data. As shown in the description of the PCT012 tables, the data are organized in Census 2010 SF1 as a set of tables that need to be separately accessed ... and then transformed to a usable format. The Modeler2 software provides two options to access and use the basic PCT012 data: via a locally stored all U.S. dataset or via the Census API (a feature integrated into the Modeler2 software).

Members of the ProximityOne User Group can download and use Modeler2 Level 1 and create SYOA profiles for any county in the U.S. See the User Group section for more information about installation and use.

Support Using these Resources
Learn more about demographic economic data and related analytical tools. Join us in a Decision-Making Information Web session. There is no fee for these Web sessions. Each informal session is focused on a specific topic. The open structure also provides for Q&A and discussion of application issues of interest to participants.

ProximityOne User Group
Join the ProximityOne User Group to keep up-to-date with new developments relating to geographic-demographic-economic decision-making information resources. Receive updates and access to tools and resources available only to members. Use this form to join the User Group. There is no fee.

Additional Information
ProximityOne develops geographic-demographic-economic data and analytical tools and helps organizations knit together and use diverse data in a decision-making and analytical framework. We develop custom demographic/economic estimates and projections, develop geographic and geocoded address files, and assist with impact and geospatial analyses. Wide-ranging organizations use our software, data and methodologies to analyze their own data integrated with other data. Follow ProximityOne on Twitter at www.twitter.com/proximityone. Contact ProximityOne (888-364-7656) with questions about data covered in this section or to discuss custom estimates, projections or analyses for your areas of interest.