Elections 2020
.. examining voting patterns in context of neighborhood demographics

February 2021 .. availability of data on voting patterns by precinct remains elusive in the 2020s. Even today, many states do not have statewide precinct boundaries available in digital/GIS form. Often precinct boundaries are updated on a local basis without statewide coordination/planning. There is substantial variation as to when precinct boundaries are updated and how they are defined. Methods used to tabulate and store voting data vary widely across states. Absence of standardized geocodes often make it difficult to impossible to analyze/interpret voting analytics.

Working with states, the Census Bureau develops Voting Tabulation District (VTDs), precincts, corresponding to precincts in the year in advance of the decennial census (2009 or 2019). Data are tabulated for VTDs based on the decennial census. VTDs are not updated during the ensuing decade, so VTD data can become data and of limited value even by mid-decade.

The purpose of this section is to review use of voting data by precinct and other geography in the context of yet other geography and subject matter. These tools and information can help stakeholders better understand why and how voters are voting, identify areas underrepresented eligible voters and yet other analyses.

This section is a work in progress. Initially, the focus is only on illustrative views of voting results by precinct in the 2020 Presidential election. Next steps will include integrating the following data:
• VTD/precinct geography in the form of GIS/shapefiles from the 2020 Census.
• Census 2020 demographic data by census block and higher level geography
• Citizen Voting Age Population (CVAP) by block group
• More detailed ACS based demographic economic data by block group
• Other geography and subject matter to be detailed ahead.

Voting Patterns by Precinct -- 2020 Presidential Election
The following graphic shows patterns of votes by party in the 2020 Presidential election in the Orange County, CA area. Using GIS tools/data this type of view may be created for most of the U.S. This view shows voting patterns by precinct in context of congressional districts. Generate similar views for other areas and/or drill-down, optionally integrating other geography and subject matter. Click graphic for larger view with more detail, showing congressional district number. Expand browser window for best quality view.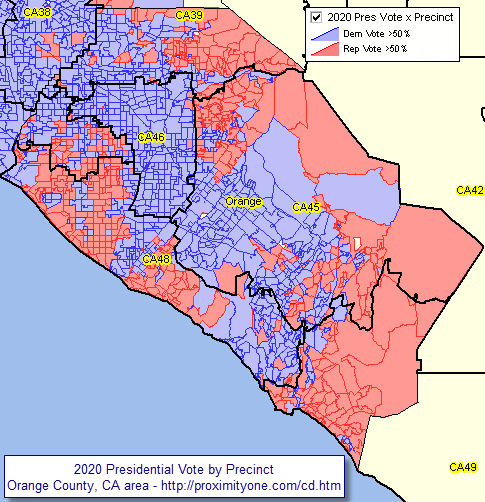 - view developed using ProximityOne CV XE GIS and related GIS project.
- the above view has been developed in part using data developed by the New York Times.

Support Using these Resources .. goto top
Learn more about accessing and using demographic-economic data and related analytical tools. Join us in a Data Analytics Lab session. There is no fee for these one-hour Web sessions. Each informal session is focused on a specific topic. The open structure also provides for Q&A and discussion of application issues of interest to participants.

ProximityOne User Group
Join the ProximityOne User Group to keep up-to-date with new developments relating to geographic-demographic-economic decision-making information resources. Receive updates and access to tools and resources available only to members. Use this form to join the User Group.

Additional Information
ProximityOne develops geographic-demographic-economic data and analytical tools and helps organizations knit together and use diverse data in a decision-making and analytical framework. We develop custom demographic/economic estimates and projections, develop geographic and geocoded address files, and assist with impact and geospatial analyses. Wide-ranging organizations use our tools (software, data, methodologies) to analyze their own data integrated with other data. Follow ProximityOne on Twitter at www.twitter.com/proximityone. Contact ProximityOne (888-364-7656) with questions about data covered in this section or to discuss custom estimates, projections or analyses for your areas of interest.