State Quarterly Gross Domestic Product by Industry
-- expanding insights through data analytics

August 2017 .. tools and data to examine how the U.S. by state Gross Domestic Product (GDP) by Industry is changing ... examining change by quarter, 2016Q1 to 2017Q1. How is the real GDP changing by state? Which industry sectors contribute most to total GDP? How might this impact your living environment and business?

This section provides information on how GDP is changing by state and industry quarterly from 2016Q1 to 2017Q1 and tools to examine these data. Use the interactive table below and GIS project, to analyze change by state using latest Bureau of Economic Analysis data. These data are used by ProximityOne to develop/update demographic-economic projections. Examine these data/patterns contextually with other subject matter and geography using the Situation & Outlook (S&O) Reports.

Narrative Analysis of GDP by Industry & Change by State
A narrative summary and analysis of state GDP by industry, contextually with other data and geography, is provided for each state in the Situation & Outlook Reports. Access current data via interactive table updated as shown in the schedule. Subscribe here.

Patterns of Real GDP Change by State, 2016Q1-2017Q1
The following graphic shows how state real GDP changed from 2016Q1-2017Q1. The legend in lower left shows color/interval for lower label.
- upper label shows state rank based on change in real GDP from 2016Q1 to 2017Q1.
- lower label shows state real GDP percent change from 2016Q1 to 2017Q2.
Use GIS project/datasets to patterns based on different measures. Click graphic for larger view; expand browser window for best quality view.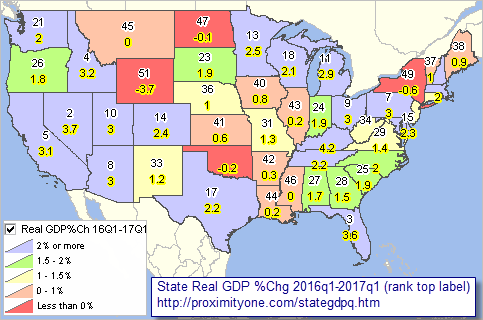 .. view developed with ProximityOne CV XE GIS and related GIS project.

Related Sections
• State Trends
• Situation & Outlook Reports
• State GDP - annual, longer term
• State GDP - quarterly, this section
• Metro GDP - annual, per capita real GDP
• Metro GDP by Industry - annual, real GDP, GDP, indexes
• Metro GDP by Industry - quarterly; real GDP, GDP, indexes; integrated U.S., state, metro (MSA)
• Regional Economic Information System - annual, personal income by major source, employment by sector
• State & Regional Income & Products Accounts

State Quarterly Gross Domestic Product by Industry; 2016Q1 - 2017Q1 interactive table
This table presents 24 rows (total GDP and industry sectors) for the U.S. and each state.
Click column header to sort; again to sort other direction.
Click ShowAll button between queries to refresh. Usage notes below table.
See related Ranking Tables Main Page

Usage Notes
• Click ShowAll between queries/filters.
• Use left-most column to select by state.
• Use Industry drop-down button to select a type of industry; see full industry list below
• Click GDP button to view GDP columns.
• Click Qty Index button to view GDP columns.

Data Attributes
• The underlying series extends from 2005Q1 forward.
• All GDP dollar values in table are in millions of dollars.
• All GDP dollar values in table are seasonally adjusted at annual rate values.

Items in Table


- Area Name
- State
- Industry Level
- Industry Group
- Industry Name
- Real GDP 2016Q1
- Real GDP 2016Q2
- Real GDP 2016Q3
- Real GDP 2016Q4
- Real GDP 2017Q1
- Real GDP Chg 161Q1-17Q1
- Real GDP %Chg 161Q1-17Q1
- GDP 2016Q1
- GDP 2016Q2
- GDP 2016Q3
- GDP 2016Q4
- GDP 2017Q1
- Qty Index 2016Q1
- Qty Index 2016Q2
- Qty Index 2016Q3
- Qty Index 2016Q4
- Qty Index 2017Q1




Industry Codes & Descriptions

| | | |
| --- | --- | --- |
| IndId | indclass | indname |
| 01 | ... | All industry total |
| 02 | ... | .Private industries |
| 03 | 11 | ..Agriculture, forestry, fishing, and hunting |
| 06 | 21 | ..Mining |
| 10 | 22 | ..Utilities |
| 11 | 23 | ..Construction |
| 12 | 31-33 | ..Manufacturing |
| 13 | ... | ...Durable goods manufacturing |
| 25 | ... | ...Nondurable goods manufacturing |
| 34 | 42 | ..Wholesale trade |
| 35 | 44-45 | ..Retail trade |
| 36 | 48-49 | ..Transportation and warehousing |
| 45 | 51 | ..Information |
| 51 | 52 | ..Finance and insurance |
| 56 | 53 | ..Real estate and rental and leasing |
| 60 | 54 | ..Professional, scientific, and technical services |
| 64 | 55 | ..Management of companies and enterprises |
| 65 | 56 | ..Administrative and waste management services |
| 69 | 61 | ..Educational services |
| 70 | 62 | ..Health care and social assistance |
| 75 | 71 | ..Arts, entertainment, and recreation |
| 78 | 72 | ..Accommodation and food services |
| 81 | 81 | ..Other services, except government |
| 82 | 92 | .Government |

Terms & Definitions -- goto top
These terms and definitions are derived from documentation developed by the Bureau of Economic Analysis.

Gross domestic product (GDP) by state is the market value of goods and services produced by the labor and property located in a state. GDP by state is the state counterpart of the U.S. GDP, the most comprehensive measure of U.S. economic activity.

Current-dollar statistics are valued in the prices of the period when the transactions occurred, at market value. Also referred to as nominal GDP or current-price GDP.

Real values are inflation-adjusted statistics; these exclude the effects of price changes.

Contributions to growth are an industry contribution to the state overall percent change in real GDP. The contributions are additive and can be summed to the state overall percent change.

Seasonal adjustment and annual rates. Quarterly values are expressed at seasonally-adjusted annual rates.

Quantities and prices. Quantities, or "real" measures, are expressed as index numbers with a specified reference year equal to 100 (currently 2009). Quantity indexes are calculated using a chained weighted formula that incorporates weights from two adjacent periods (quarters for quarterly data and annuals for annual data). "Real" dollar series are calculated by multiplying the published quantity index by the current dollar value in the reference year (2009) and then dividing by 100. Percent changes calculated from chained-dollar levels and quantity indexes are conceptually the same; any differences are due to rounding.

Chained-dollar values are not additive because the relative weights for a given period differ from those of the reference year.

Chained-dollar values of GDP by state are derived by applying national chain-type price indexes to the current dollar values of GDP by state for the 21 NAICS-based industry sectors. The chain-type index formula that is used in the national accounts is then used to calculate the values of total real GDP by state and real GDP by state at more aggregated industry levels. Real GDP by state may reflect a substantial volume of output that is sold to other states and countries. To the extent that a state's output is produced and sold in national markets at relatively uniform prices (or sold locally at national prices), real GDP by state captures the differences across states that reflect the relative differences in the mix of goods and services that the states produce. However, real GDP by state does not capture geographic differences in the prices of goods and services that are produced and sold locally.

Relation of Gross Domestic Product (GDP) by State for the U.S. to GDP in the National Accounts. An industry's GDP by state, or its value added, in practice, is calculated as the sum of incomes earned by labor and capital and the costs incurred in the production of goods and services. It includes the wages and salaries that workers earn, the income earned by individual or joint entrepreneurs as well as by corporations, and business taxes such as sales, property, and Federal excise taxes—that count as a business expense.

GDP is calculated as the sum of what consumers, businesses, and government spend on final goods and services, plus investment and net foreign trade. In theory, incomes earned should equal what is spent, but due to different data sources, the measurement of income earned, usually referred to as gross domestic income (GDI), does not always equal the measurement of what is spent (GDP). The difference is referred to as the "statistical discrepancy."

GDP by state for the U.S. differs from the GDP in the national income and product accounts (NIPAs) and thus from the Industry Economic Accounts GDP by industry, because GDP by state for the U.S. excludes federal military and civilian activity located overseas, which cannot be attributed to a particular state.

Support Using these Resources
Learn more about accessing and using demographic-economic data and related analytical tools. Join us in a Data Analytics Lab session. There is no fee for these one-hour Web sessions. Each informal session is focused on a specific topic. The open structure also provides for Q&A and discussion of application issues of interest to participants.

ProximityOne User Group
Join the ProximityOne User Group to keep up-to-date with new developments relating to metros and component geography decision-making information resources. Receive updates and access to tools and resources available only to members. Use this form to join the User Group.

Additional Information
ProximityOne develops geodemographic-economic data and analytical tools and helps organizations knit together and use diverse data in a decision-making and analytical framework. We develop custom demographic/economic estimates and projections, develop geographic and geocoded address files, and assist with impact and geospatial analyses. Wide-ranging organizations use our tools (software, data, methodologies) to analyze their own data integrated with other data. Follow ProximityOne on Twitter at www.twitter.com/proximityone. Contact us (888-364-7656) with questions about data covered in this section or to discuss custom estimates, projections or analyses for your areas of interest.