2016 Presidential Election - Voting & Citizen Voting Age Population

December 2016. In 2015, the U.S. citizen voting age population (CVAP) was 227,019,486 of the total U.S. resident population of 321,418,821 (70.6%). 2016 CVAP data are not yet available. In the 2016 presidential election, 128,298,470 votes were cast -- approximately 56% of the citizen voting age population. For individual counties the 2016 presidential election vote ranged from 16% of the CVAP to near 100%. Use the interactive table in this section to examine characteristics of the 2016 presidential election vote and citizen voting age population by county.

This section provides access to tools to view/analyze characteristics of the U.S. voting population (ages 18 and older and citizen) and participation in the 2016 presidential election. Data are based on Census Bureau annual population estimates, American Community Survey 2010-14 5 year (ACS 2014) Citizen Voting Age Population (CVAP) special tabulation and 2016 presidential election results.

ProximityOne develops and analyzes demographic estimates and projections and performs studies using these data. Patterns and characteristics of the voting population is one of many subject matter areas. See about other voting population and related sections below in this page.

Visual Analysis of 2016 Presidential Election Vote by County
The following graphic shows the 2016 presidential vote as a percent of the citizen voting age population.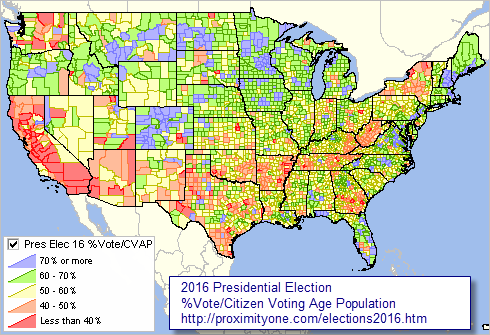 - Click graphic for larger view.
- View developed with CV XE GIS software.

U.S. Electorate Profile: Characteristics of the Citizen, 18 and Older Population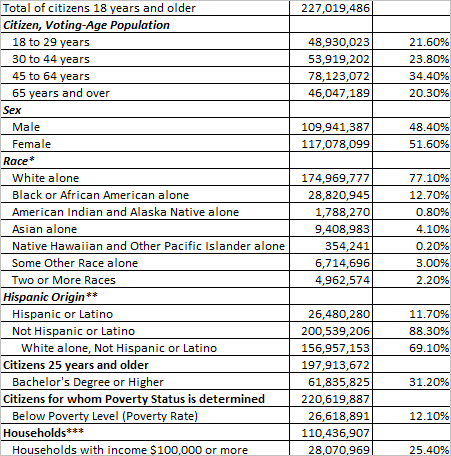 - based on 2015 American Community Survey 1-Year estimates
*Except where noted, "race" refers to people reporting only one race.
**Hispanic refers to the ethnicity category and may be of any race.
***Households with citizen householders.

2016 Presidential Election Voting Characteristics by County -- Interactive Table
See usage notes below table.
Click ShowAll button between Find/Queries.
See related demographic-economic interactive tables.



Using the Interactive Table
• Alaska not included; data not available when dataset developed.
• Click on a column header to sort on that column; click column header again to sort in other direction.
• Click ShowAll button to show all tabulation areas and restore full set of data view.
• Click State to select on geographies in a selected state (click ShowAll between selections).
• Click GeoType to select a type of geography (click ShowAll between selections).

The right-most column, "%Vote to CVAP" is an approximation of the percent of citizen voting age population in that county who voted in the 2016 presidential election. The value is the percent of the "President 2016 Vote" column relative to the "CVAP Population" column. Note that the CVAP population value is from the ACS 2014 5-year estimates and centric to mid-2012 whereas the votes are as of 2016. More recent estimates of the CVAP population for all counties are not available at the time this section was developed (12/16).

Related Sections
• Congressional Districts
• State Legislative Districts 2013
• State Legislative Districts 2014
Citizens & Citizen Voting Age Population
• Block Groups; ACS 2010-14 special tabulation
• Citizen Voting Age Population Demographics - tract & block group
• Census Tracts; ACS 2009-13 special tabulation - Hispanic focus
• Tracts & Congressional Districts; ACS 2009-13 special tabulation
Voting Population & Voting Districts
• CVAP & Voter Demographics - characteristics of 2014 election voters
• Voting District Geography & Demographics - relating election precincts to CDs
• America's Communities
• Voter Mobilization Resources & Methods

Support Using these Resources
Learn more about accessing and using demographic-economic data and related analytical tools. Join us in a Data Analytics Lab session. There is no fee for these one-hour Web sessions. Each informal session is focused on a specific topic. The open structure also provides for Q&A and discussion of application issues of interest to participants.

ProximityOne User Group
Join the ProximityOne User Group to keep up-to-date with new developments relating to geographic-demographic-economic decision-making information resources. Receive updates and access to tools and resources available only to members. Use this form to join the User Group.

Additional Information
ProximityOne develops geographic-demographic-economic data and analytical tools and helps organizations knit together and use diverse data in a decision-making and analytical framework. We develop custom demographic/economic estimates and projections, develop geographic and geocoded address files, and assist with impact and geospatial analyses. Wide-ranging organizations use our tools (software, data, methodologies) to analyze their own data integrated with other data. Follow ProximityOne on Twitter at www.twitter.com/proximityone. Contact ProximityOne (888-364-7656) with questions about data covered in this section or to discuss custom estimates, projections or analyses for your areas of interest.