Census 2000 Public Use Microdata Areas (PUMAs)
-- using Census 2000 PUMA boundaries/shapefiles

Decision-Making Information


ProximityOne
information resources & solutions
(888) DMI-SOLN
(888) 364-7656


Visual analysis with ProximityOne tools
click graphic for info; hover to pause





Arizona 2010 PUMAs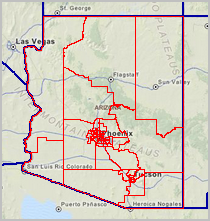 click for larger & more detailed views




Public Use Microdata Areas (PUMAs) provide most detailed U.S. wall-to-wall geography for which custom-defined demographic estimates can be developed using Public Use Microdata Sample (PUMS) data. More about PUMS. Summary statistics are also tabulated for PUMAs for selected statistical programs.

Census 2000 5-percent Public Use Microdata Area (PUMA) boundaries and shapefiles are used with Census 2000 Public Use Microdata Sample (PUMS) and American Community Survey (ACS) 2011 and earlier years. Starting with ACS 2012, the 2010 vintage PUMAs are used.

2010 PUMAs. See the following related sections:
• Public Use Microdata Areas -- Census 2010
• Public Use Microdata Samples
• Install CV XE GIS to access and use 2000 & 2010 PUMA shapefiles
• Use CV XE Crosstabs to:
- create custom estimates using PUMS data
- save custom estimates into shapefile structure for pattern analysis/thematic mapping

Additional Information
ProximityOne develops geographic-demographic-economic data and analytical tools and helps organizations knit together and use diverse data in a decision-making and analytical framework. We develop custom demographic/economic estimates and projections, develop geographic and geocoded address files, and assist with impact and geospatial analyses. Wide-ranging organizations use our tools (software, data, methodologies) to analyze their own data integrated with other data. Follow ProximityOne on Twitter at www.twitter.com/proximityone. Contact ProximityOne (888-364-7656) with questions about data covered in this section or to discuss custom estimates, projections or analyses for your areas of interest.