TIGER/Line 2017 Road Coverage

.. resources for geographic reference, statistical mapping, routing logistics/optimization and related operations .. See the 2017 digital map database main page for general information and related geography.

The 2017 digital map database includes many types of files and data. The data are developed in the form of shapefiles and dbase files that may be used directly with the ProximityOne CV XE GIS software at no fee. Perform wide-ranging mapping and geospatial analysis applications using these GIS resources. See more about mapping statistical data.

TIGER/Line Roads Data
This section is focused mainly on the use of the TIGER/Line "edges" shapefile. The edges shapefile U.S. wall-to-wall street/road coverage in the form of line shapefiles. Lines classified as roads are intersection-to-intersection road segments. Line segment fields include name, left- and right-side high and low addresses, and many related attributes.

Use the U.S. by county interactive table below to examine attributes of TIGER 2017 street/road coverage. ProximityOne developed these county summary data by processing each county edges shapefile. See about using the edges shapefile with the CV XE GIS software below in this section.

Illustrative Applications
The following sequence of graphics shows an example of a "road segment" in context of related geography. These applications focus on an area in Kansas City, MO (Jackson County), part of the Kansas City metro. Jackson County has 52,139 TIGER 2017 road segments. See the related step-by-step summary of how you can create these and similar map views using CV XE GIS below in this section.

Road Segment Map View & Profile
- Starbucks locations are shown as red markers. The pointer is on one road segment below a Starbucks.
- This view illustrates how non-Census, non-statistical data can be integrated with TIGER geography.
- Clicking on the road segment (in a CV XE GIS operation), a mini-profile is displayed.
- The profile shows attributes of the selected road segment.
.. the TLID value shows the unique ID for this segment among all segments in U.S.
.. left- and right-side high and low address ranges and included in the profile.



Corresponding Census Block Profile
- The road segments are boundaries for census blocks.
- The census block boundaries are shown using a related TIGER blocks shapefile.
- The more that 11 million census blocks cover the U.S. wall-to-wall.
- The census block code (290950073002017) is shown as a label in the map graphic and in the profile.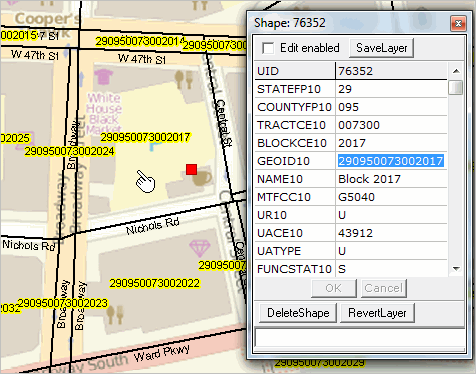 Neighborhood & Shopping Area View
- A zoom-out shows the location, roads and blocks for a broader areas.



Regional View
- A further zoom-out shows the focus area view in context of the metro counties (a related TIGER shapefile)
- The January 2017 Kansas City city area (orange cross-hatch pattern) is shown using a related TIGER 2017 shapefile.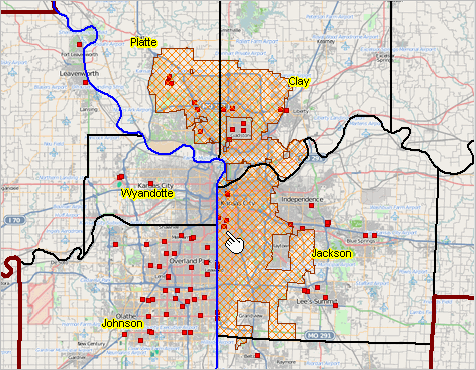 2017 Roads
TIGER/Line 2017 vintage files were released in October 2017. While many aspects of road coverage remain as described in this section, TIGER/line 2017 includes many updates as well as "new vintage" geography for school districts, state legislative districts, congressional districts and other political/statistical area geography.
• More about TIGER 2017.
• More about TIGER/Line in general.

TIGER Road Coverage & Attribute Availability
A limitation of TIGER/Line road coverage is that not all road segment fields are populated with the name and many have no address-related field values. This is the result of many reasons that include quality of underlying data are provided by county/regional source partners, roads that are predominately commercial and less residential and other factors.

Why this matters:
• match rate can be unacceptably low for use in geocoding
• location-based analyses inhibited by lower coverage addresses
• absence of names and addresses limits ability for labeling in map views

Other limitations include omission of line/road segments when in fact roads do exist and road segments that are geometrically incorrect. Not covered in this section, see visual/map examples in this related section.

TIGER 2017 all lines shapefiles (34.6GB) include 68.3 million line segments (mainly roads and streams):
• approximately 43.8 million line segments are roads (typically intersection to intersection).
• among road segments, 31.6 million segments have a populated name field;
.. the remaining 12.2 million road segments have no name assigned.
• among road segments, 17.2 million segments have an assigned left-side low address field;
.. the remaining 26.6 million segments have no address in the left-side low address field.
Data for each of these fields and others are provided for each county in the interactive table below.

TIGER 2017 Road/Street Name/Address Coverage -- Interactive Table
Click column header to sort; click again to sort other direction.
See usage notes below table. See related Related Interactive Tables

Usage Notes
• Use Select Area to select/filter county.
- Click ShowAll button first.
- Key in any part of name and click Select Area button.
- Search will filter for any name with that exact, case sensitive, spelling.
- Jackson is used as an example.
• Click ShowAll button between specific queries.

Column Headers
• County Name
• ST -- state postal abbreviation
• StCty -- state + county FIPS code
• All Lines -- total line segments
• Roads -- line segments that are roads
• Named -- with some name -- among all road segments
• Left-Lo -- left side low address -- with some address -- number of all road segments
• Left-Hi -- left side low address -- with some address -- number of all road segments
• Right-Lo -- right side low address -- with some address -- number of all road segments
• Right-Hi -- right side high address -- with some address -- number of all road segments
• Named Roads -- with some name -- % of all road segments
• L-Lo% -- left side low address -- with some address -- % of all road segments
• L-Hi% -- left side high address -- with some address -- % of all road segments
• R-Lo% -- right side low address -- with some address -- % of all road segments
• R-Hi% -- right side high address -- with some address -- % of all road segments

Using Roads Shapefiles/Data Files with CV XE GIS
These operations require a Windows computer with Internet connection
1. Install the ProximityOne CV XE GIS
... run the CV XE GIS installer
... take all defaults during installation
2. Download the TIGER Roads project fileset
... requires ProximityOne User Group ID (join now)
... unzip TIGER Roads GIS project files to local folder c:\tiger2017
3. Open the c:\tiger2017\tiger2017_kc.gis project
... after completing the above steps, click File>Open>Dialog
... open the file named c:\tiger2017\tiger2017_kc.gis
4. Done. The start-up view is shown at top of this section.

ProximityOne Roads Shapefiles & Database
ProximityOne roads shapefiles include 100% compatibility with the Census Bureau version with added features and accessibility; nothing is lost, much is gained. ProximityOne version:
• has updated and improved coverage of ZIP code assignment to right and left side of segment.
• includes an extended set of right and left side segment geocodes (e.g., city, CBSA, school district, others).
• includes latitude-longitude from and to segment end-points.
• includes all lines (streams, rails, etc.), not only roads (roads identifier include for easy query).
• available as dBase only for non-GIS applications.
.. dBase/attributes file alone (without .shp) not available from Census.
.. road segment attributes file alone also available as CSV.
.. optionally eliminate role of shapefile and dBase file structure altogether.
• ready-to-use shapefiles on DVD (or download from our server -- immediate access).
.. just put the disc into a drive and directly add road shapefiles to your GIS project.
.. no unzipping, no hard disk space usage (optionally copy to hard disk).
• includes user application support.

ProximityOne User Group
Join the ProximityOne User Group to keep up-to-date with new developments relating to metros and component geography decision-making information resources. Receive updates and access to tools and resources available only to members. Use this form to join the User Group.

Support Using these Resources
Learn more about accessing and using demographic-economic data and related analytical tools. Join us in a Data Analytics Lab session. There is no fee for these one-hour Web sessions. Each informal session is focused on a specific topic. The open structure also provides for Q&A and discussion of application issues of interest to participants.

Additional Information
ProximityOne develops geodemographic-economic data and analytical tools and helps organizations knit together and use diverse data in a decision-making and analytical framework. We develop custom demographic/economic estimates and projections, develop geographic and geocoded address files, and assist with impact and geospatial analyses. Wide-ranging organizations use our tools (software, data, methodologies) to analyze their own data integrated with other data. Follow ProximityOne on Twitter at www.twitter.com/proximityone. Contact us (888-364-7656) with questions about data covered in this section or to discuss custom estimates, projections or analyses for your areas of interest.