108th Congressional Districts: Analysis and Insights
.. interpretative data analytics; tools, data & methods

April 2018 .. this section is focused on 108th Congressional District geographic, demographic and economic patterns and characteristics. Use tools and data presented in this section to examine/analyze characteristics of one congressional district (CD) or a group of CDs based on selected attributes.

The 108th Congressional Districts covered the period from January 3, 2003 to January 3, 2005. The apportionment of the 108th Congressional Districts House of Representatives was based on Census 2000.

The 108th CD Census 2000 demographics correspond to the 115th CD Census 2010 demographics -- 10 years earlier. In many instances underlying census block geography and codes differ between censuses as do many of the CD boundaries. It remains that many longitudinal CD/representation insights are made available through analysis of census block demographics for each decennial and over the 10 year period.

Texas 108th CD 29 by Census 2000 Census Block
The following view illustrates use of the Census 2000 census block - 108th Congressional District block equivalency file (CD108BEF). The graphic shows Census 2000 census blocks (yellow fill pattern) comprising Texas 108th CD 29. 108th CDs are shown with blue boundary and labeled with white within state 2-digit CD code.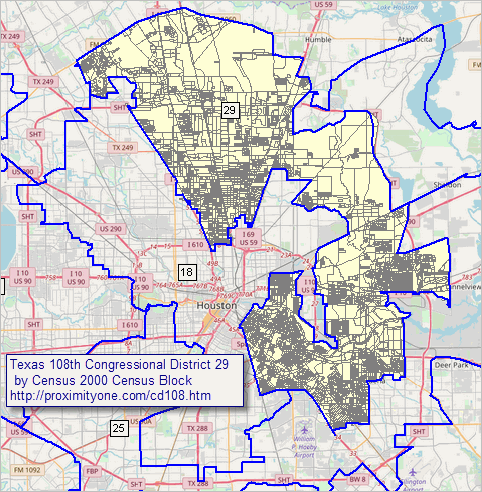 - View developed using CV XE GIS and related GIS project.

Note that the above view shows no demographics. This underscores the importance of Census-sourced geography and the use of these data to define and analyze wide-ranging types of geography and geographic relationships. The above view has been developed by merging the 108CDBEF data into the Census sourced Census 2000 block shapefile and developing the map view with associated Census sourced 108 CD boundary shapefile. Many other layers could be added to compare/analyze, for example, corresponding Census 2010 census blocks and 115th Congressional Districts.

Census 2000 Census Block - 108th Congressional District Equivalence File
The Census 2000 Census Block - 108th Congressional District Equivalence File (CD108BEF) is a national scope file containing a record for every Census 2000 census block (each state and D.C. -- 8,205,582 blocks). There are no geographic level summary records such as CD 108 totals. Each data record contains the census block geocode and the 108 CD code. The data record also includes the Census 2000 total population. The sum of the population across block records is 281,421,906.

Accessing the CD108BEF
The CD108BEF has been developed by ProximityOne. The file is available to members of the ProximityOne User Group and Congressional District/State Legislative District Group (CDSLD).

Download the CD108BEF File
These links require your User Group of CDSLD Group User ID.
• ZIP file containing CD108BEF in CSV Format 52MB
• ZIP file containing CD108BEF in DBF Format 50 MB
• State tallies (xls)

Using the CD108BDF
The block equivalence file enables mapping and geospatial analysis of census block demographics in context of the 108th CDs as illustrated in the graphic shown above. The CD108BEF also contains the Census 2000 census block total population. As a result, this file can also be used to develop total population summary data for census tracts, census block groups, counties, city/places, metros and many other type of geography.

Related Sections
• Census 2000 Main
• Census 2010 Main
• Census 2020 Main
• Census 2020 Redistricting
• Congressional Districts Main
• 115th Congressional Districts
• 115th CD BEF (Census site)


Support Using these Resources
Learn more about accessing and using demographic-economic data and related analytical tools. Join us in a Data Analytics Lab session. There is no fee for these one-hour Web sessions. Each informal session is focused on a specific topic. The open structure also provides for Q&A and discussion of application issues of interest to participants.

ProximityOne User Group
Join the ProximityOne User Group to keep up-to-date with new developments relating to metros and component geography decision-making information resources. Receive updates and access to tools and resources available only to members. Use this form to join the User Group.

Additional Information
ProximityOne develops geodemographic-economic data and analytical tools and helps organizations knit together and use diverse data in a decision-making and analytical framework. We develop custom demographic/economic estimates and projections, develop geographic and geocoded address files, and assist with impact and geospatial analyses. Wide-ranging organizations use our tools (software, data, methodologies) to analyze their own data integrated with other data. Follow ProximityOne on Twitter at www.twitter.com/proximityone. Contact us (888-364-7656) with questions about data covered in this section or to discuss custom estimates, projections or analyses for your areas of interest.