ZIP Code Urban/Rural Geography & Demographics

More than half of U.S. ZIP Code areas are 100% rural. Nine ZIP Code areas have 100,000 or more population. ZIP Code area 10028 (Manhattan), 0.3 square mile, has density of 143,683 population per square mile. ZIP code demographics are widely used in analysis largely due to familiarity of ZIP code locations by code and availability of related data, such as address data. The Census 2010 ZIP Code Tabulation Areas (ZCTAs) are generalized geographic representations of U.S. Postal Service ZIP Code service areas. ZCTAs can provide insights into urban/rural patterns within and among ZIP Code areas.

Of the 33,140 ZCTAs identified in Census 2010 Summary File 1, 5,236 ZCTAs were 100% urban and 17,033 ZCTAs were 100% rural. The remainder have some mix of urban/rural population. Use the interactive table in this section to examine Census 2010 ZIP Code Areas by population and housing units by urban/rural status. Land area, water area and population density are also shown.

ZIP Code Urban/Rural Visual Analysis
The graphic below shows ZIP 75034 (see also in ranking table below) located in Frisco ISD, TX area in Dallas, TX metro. ZIP Code areas red boundaries; school districts black boundaries; urban schools green markers; rural schools orange markers; urban areas orange fill pattern. It is easy to see what parts of ZIP 75034 are urban (orange) versus rural (no pattern).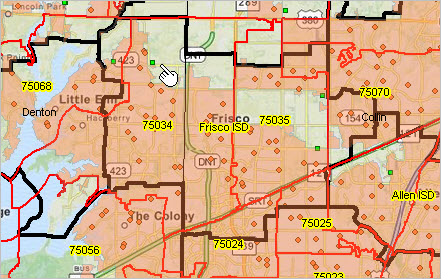 Click graphic for larger view and details. View developed using CV XE GIS and related GIS project.
See related section on K-12 schools by urban/rural status.

Related ZIP Code Demographics Interactive Tables
General Demographics .. Social Characteristics .. Economic Characteristics .. Housing Characteristics

More about ZIP Code Areas.

ZIP Code-Urban-Rural Data Subscription Options
There are two options to order the ZIP Code-Urban-Rural Data. These data are generally updated annually.

Option 1 -- Data File. Order the spreadsheet file for download and use on your computer with your software.
The file is provided for a one-time fee for perpetual use. Optionally re-purchase the file at any time in the future for an update; same fee.

| | | | |
| --- | --- | --- | --- |
| Item | Description | Price | Click to Order |
| ZUR1 | ZIP Code-Urban-Rural Data; Single User; Perpetual Use License | $495 | |

Option 2 -- Online. Subscribe to the interactive table similar to the table and operation shown below.
You receive login instructions and have 24x7 access. This service is an annual subscription continuing through the start-up month for 12 additional months.

| | | | |
| --- | --- | --- | --- |
| Item | Description | Price | Click to Order |
| ZUR2 | ZIP Code-Urban-Rural Data; Annual Online Service Subscription | $495 | |

ZIP Code Area Census 2010 Urban Rural Interactive Table
The table shown below includes all California ZIP Code areas. See above for access to all U.S. ZIP Code areas.
Click column header to sort; click again to sort other direction. Click ShowAll button between queries.
See related Ranking Tables Main Page


Usage Notes
• Click on a column header to sort on that column; click column header again to sort in other direction.
• Click ShowAll button to show all areas and restore full set of data view.
• Click State to view a selected state (click ShowAll between selections).
• Find ZIP: key in ZIP code in text box to right of Find ZIP.
then click button to locate matching ZIP Code.

Land area and water area values shown are rounded; values showing a zero may be >0 and <0.5

ProximityOne User Group
Join the ProximityOne User Group to keep up-to-date with new developments relating to metros and component geography decision-making information resources. Receive updates and access to tools and resources available only to members. Use this form to join the User Group.

Support Using these Resources
Learn more about accessing and using demographic-economic data and related analytical tools. Join us in a Data Analytics Lab session. There is no fee for these one-hour Web sessions. Each informal session is focused on a specific topic. The open structure also provides for Q&A and discussion of application issues of interest to participants.

Additional Information
ProximityOne develops geodemographic-economic data and analytical tools and helps organizations knit together and use diverse data in a decision-making and analytical framework. We develop custom demographic/economic estimates and projections, develop geographic and geocoded address files, and assist with impact and geospatial analyses. Wide-ranging organizations use our tools (software, data, methodologies) to analyze their own data integrated with other data. Follow ProximityOne on Twitter at www.twitter.com/proximityone. Contact us (888-364-7656) with questions about data covered in this section or to discuss custom estimates, projections or analyses for your areas of interest.