ZIP Code Geographic-Demographic-Economic Resources

This section provides information on selected ZIP Code geographic-demographic-economic resources, analytical tools and related services available from ProximityOne.

Guide to ZIP Code Area Geographic-Demographic-Economic Data Resources
-- http://proximityone.com/zipdata_resources.htm

11.19.15. Relating Block Groups to ZIP Code Areas
... interactive table & GIS tools/applications
... population and area for each BG part intersecting with ZIP code area
... See http://proximityone.com/bg-zip.htm
San Francisco Block Group 06-075-015700-1 in Context of ZIP 94115



10.20.15. Mapping ZIP Code Demographics
... tools and data resources for analyzing ZIP Code area patterns
... interactive table & GIS applications
... http://proximityone.com/mapping_zipcode_demographics.htm
Los Angeles area; patterns of economic prosperity by ZIP code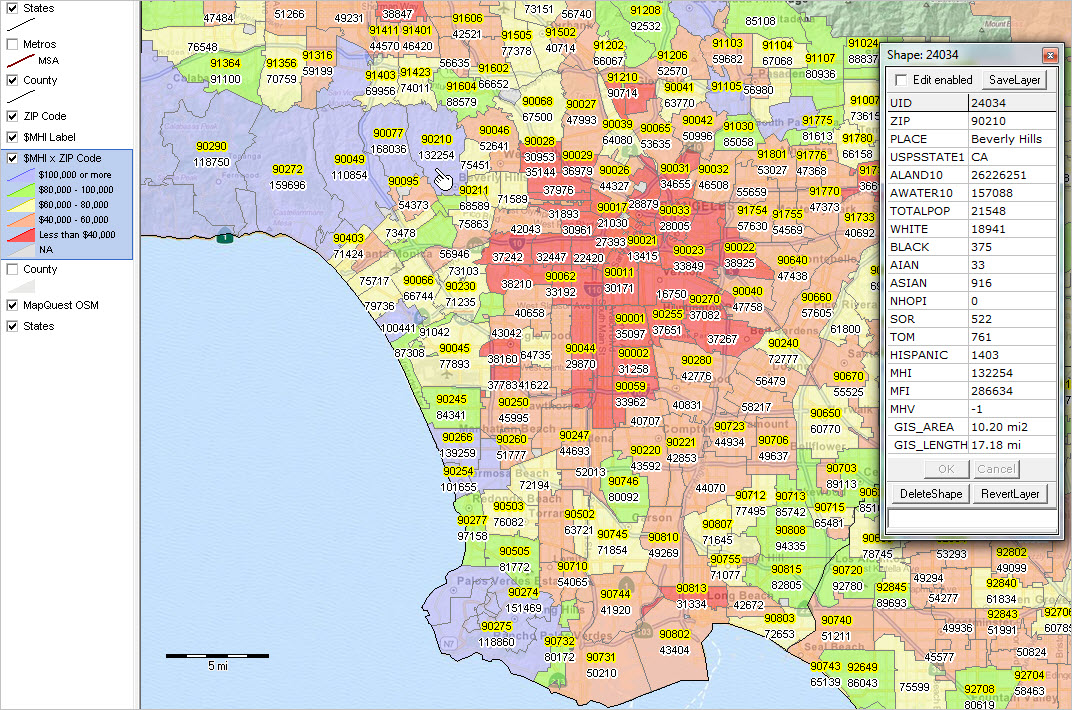 Dallas, TX Metro Area Rental Vacancy Rate by ZIP Code


See larger view with details

See map views illustrating use of Census 2010 & Census 2000 ZIP Code Area geography:
-- http://proximityone.com/gallery/guide/index.htm?census2010zcta.htm

ZIP Code Demographic-Economic Datasets

---
Updated December 2014 ... the U.S. national scope ZIP Code demographic-economic data include approximately 600 subject matter items organized into four groups. These datasets are available as ACS 2011 5-year estimates. ACS 2012 5-year estimates. ACS 2013 5-year estimates and ProximityOne annual estimates and projections to 2019. (updated/extended annually). Use the scroll boxes shown below to view/browse subject matter items included.



Social Characteristics Items


HOUSEHOLDS BY TYPE
Total households
Family households (families)
With own children under 18 years
Married-couple family
With own children under 18 years
Male householder, no wife present, family
With own children under 18 years
Female householder, no husband present, family
With own children under 18 years
Nonfamily households
Householder living alone
65 years and over
Households with one or more people under 18 years
Households with one or more people 65 years and over
Average household size
Average family size
RELATIONSHIP
Population in households
Householder
Spouse
Child
Other relatives
Nonrelatives
Unmarried partner
MARITAL STATUS
Males 15 years and over
Never married
Now married, except separated
Separated
Widowed
Divorced
Females 15 years and over
Never married
Now married, except separated
Separated
Widowed
Divorced
FERTILITY
Number of women 15 to 50 years old who had a birth in the past 12 months
Unmarried women (widowed, divorced, and never married)
Per 1,000 unmarried women
Per 1,000 women 15 to 50 years old
Per 1,000 women 15 to 19 years old
Per 1,000 women 20 to 34 years old
Per 1,000 women 35 to 50 years old
GRANDPARENTS
Number of grandparents living with own grandchildren under 18 years
Responsible for grandchildren
Years responsible for grandchildren
Less than 1 year
1 or 2 years
3 or 4 years
5 or more years
Number of grandparents responsible for own grandchildren under 18 years
Who are female
Who are married
SCHOOL ENROLLMENT
Population 3 years and over enrolled in school
Nursery school, preschool
Kindergarten
Elementary school (grades 1-8)
High school (grades 9-12)
College or graduate school
EDUCATIONAL ATTAINMENT
Population 25 years and over
Less than 9th grade
9th to 12th grade, no diploma
High school graduate (includes equivalency)
Some college, no degree
Associate's degree
Bachelor's degree
Graduate or professional degree
Percent high school graduate or higher
Percent bachelor's degree or higher
VETERAN STATUS
Civilian population 18 years and over
Civilian veterans
DISABILITY STATUS OF THE CIVILIAN NONINSTITUTIONALIZED POPULATION
Total Civilian Noninstitutionalized Population
With a disability
Under 18 years
With a disability
18 to 64 years
With a disability
65 years and over
With a disability
RESIDENCE 1 YEAR AGO
Population 1 year and over
Same house
Different house in the U.S.
Same county
Different county
Same state
Different state
Abroad
PLACE OF BIRTH
Total population
Native
Born in United States
State of residence
Different state
Born in Puerto Rico, U.S. Island areas, or born abroad to American parent(s)
Foreign born
U.S. CITIZENSHIP STATUS
Foreign-born population
Naturalized U.S. citizen
Not a U.S. citizen
YEAR OF ENTRY
Population born outside the United States
Native
Entered 2000 or later
Entered before 2000
Foreign born
Entered 2000 or later
Entered before 2000
WORLD REGION OF BIRTH OF FOREIGN BORN
Foreign-born population, excluding population born at sea
Europe
Asia
Africa
Oceania
Latin America
Northern America
LANGUAGE SPOKEN AT HOME
Population 5 years and over
English only
Language other than English
Speak English less than "very well"
Spanish
Speak English less than "very well"
Other Indo-European languages
Speak English less than "very well"
Asian and Pacific Islander languages
Speak English less than "very well"
Other languages
Speak English less than "very well"
ANCESTRY
Total population
American
Arab
Czech
Danish
Dutch
English
French (except Basque)
French Canadian
German
Greek
Hungarian
Irish
Italian
Lithuanian
Norwegian
Polish
Portuguese
Russian
Scotch-Irish
Scottish
Slovak
Subsaharan African
Swedish
Swiss
Ukrainian
Welsh
West Indian (excluding Hispanic origin groups)




General Demographics Items


AGE AND GENDER
Total population
Male
Female
Under 5 years
5 to 9 years
10 to 14 years
15 to 19 years
20 to 24 years
25 to 34 years
35 to 44 years
45 to 54 years
55 to 59 years
60 to 64 years
65 to 74 years
75 to 84 years
85 years and over
Median age (years)
18 years and over
21 years and over
62 years and over
65 years and over
18 years and over
Male
Female
65 years and over
Male
Female
RACE
Total population
One race
Two or more races
One race
White
Black or African American
American Indian and Alaska Native
Cherokee tribal grouping
Chippewa tribal grouping
Navajo tribal grouping
Sioux tribal grouping
Asian
Asian Indian
Chinese
Filipino
Japanese
Korean
Vietnamese
Other Asian
Native Hawaiian and Other Pacific Islander
Native Hawaiian
Guamanian or Chamorro
Samoan
Other Pacific Islander
Some other race
Two or more races
White and Black or African American
White and American Indian and Alaska Native
White and Asian
Black or African American and American Indian and Alaska Native
Race alone or in combination with one or more other races
Total population
White
Black or African American
American Indian and Alaska Native
Asian
Native Hawaiian and Other Pacific Islander
Some other race
HISPANIC OR LATINO AND RACE
Total population
Hispanic or Latino (of any race)
Mexican
Puerto Rican
Cuban
Other Hispanic or Latino
Not Hispanic or Latino
White alone
Black or African American alone
American Indian and Alaska Native alone
Asian alone
Native Hawaiian and Other Pacific Islander alone
Some other race alone
Two or more races
Two races including Some other race
Two races excluding Some other race, and Three or more races
Total housing units





Housing Characteristics Items


HOUSING OCCUPANCY
Total housing units
Occupied housing units
Vacant housing units
Homeowner vacancy rate
Rental vacancy rate
UNITS IN STRUCTURE
Total housing units
1-unit, detached
1-unit, attached
2 units
3 or 4 units
5 to 9 units
10 to 19 units
20 or more units
Mobile home
Boat, RV, van, etc.
YEAR STRUCTURE BUILT
Total housing units
Built 2005 or later
Built 2000 to 2004
Built 1990 to 1999
Built 1980 to 1989
Built 1970 to 1979
Built 1960 to 1969
Built 1950 to 1959
Built 1940 to 1949
Built 1939 or earlier
ROOMS
Total housing units
1 room
2 rooms
3 rooms
4 rooms
5 rooms
6 rooms
7 rooms
8 rooms
9 rooms or more
Median rooms
BEDROOMS
Total housing units
No bedroom
1 bedroom
2 bedrooms
3 bedrooms
4 bedrooms
5 or more bedrooms
HOUSING TENURE
Occupied housing units
Owner-occupied
Renter-occupied
Average household size of owner-occupied unit
Average household size of renter-occupied unit
YEAR HOUSEHOLDER MOVED INTO UNIT
Occupied housing units
Moved in 2005 or later
Moved in 2000 to 2004
Moved in 1990 to 1999
Moved in 1980 to 1989
Moved in 1970 to 1979
Moved in 1969 or earlier
VEHICLES AVAILABLE
Occupied housing units
No vehicles available
1 vehicle available
2 vehicles available
3 or more vehicles available
HOUSE HEATING FUEL
Occupied housing units
Utility gas
Bottled, tank, or LP gas
Electricity
Fuel oil, kerosene, etc.
Coal or coke
Wood
Solar energy
Other fuel
No fuel used
SELECTED CHARACTERISTICS
Occupied housing units
Lacking complete plumbing facilities
Lacking complete kitchen facilities
No telephone service available
OCCUPANTS PER ROOM
Occupied housing units
1.00 or less
1.01 to 1.50
1.51 or more
VALUE
Owner-occupied units
Less than $50,000
$50,000 to $99,999
$100,000 to $149,999
$150,000 to $199,999
$200,000 to $299,999
$300,000 to $499,999
$500,000 to $999,999
$1,000,000 or more
Median (dollars)
MORTGAGE STATUS
Owner-occupied units
Housing units with a mortgage
Housing units without a mortgage
SELECTED MONTHLY OWNER COSTS (SMOC)
Housing units with a mortgage
Less than $300
$300 to $499
$500 to $699
$700 to $999
$1,000 to $1,499
$1,500 to $1,999
$2,000 or more
Median (dollars)
Housing units without a mortgage
Less than $100
$100 to $199
$200 to $299
$300 to $399
$400 or more
Median (dollars)
SELECTED MONTHLY OWNER COSTS AS A PERCENTAGE OF HOUSEHOLD INCOME (SMOCAPI)
Housing units with a mortgage (excluding units where SMOCAPI cannot be computed)
Less than 20.0 percent
20.0 to 24.9 percent
25.0 to 29.9 percent
30.0 to 34.9 percent
35.0 percent or more
Not computed
Housing unit without a mortgage (excluding units where SMOCAPI cannot be computed)
Less than 10.0 percent
10.0 to 14.9 percent
15.0 to 19.9 percent
20.0 to 24.9 percent
25.0 to 29.9 percent
30.0 to 34.9 percent
35.0 percent or more
Not computed
GROSS RENT
Occupied units paying rent
Less than $200
$200 to $299
$300 to $499
$500 to $749
$750 to $999
$1,000 to $1,499
$1,500 or more
Median (dollars)
No rent paid
GROSS RENT AS A PERCENTAGE OF HOUSEHOLD INCOME (GRAPI)
Occupied units paying rent (excluding units where GRAPI cannot be computed)
Less than 15.0 percent
15.0 to 19.9 percent
20.0 to 24.9 percent
25.0 to 29.9 percent
30.0 to 34.9 percent
35.0 percent or more
Not computed

Economic Characteristics Items


EMPLOYMENT STATUS
Population 16 years and over
In labor force
Civilian labor force
Employed
Unemployed
Armed Forces
Not in labor force
Civilian labor force
Percent Unemployed
Females 16 years and over
In labor force
Civilian labor force
Employed
Own children under 6 years
All parents in family in labor force
Own children 6 to 17 years
All parents in family in labor force
COMMUTING TO WORK
Workers 16 years and over
Car, truck, or van -- drove alone
Car, truck, or van -- carpooled
Public transportation (excluding taxicab)
Walked
Other means
Worked at home
Mean travel time to work (minutes)
OCCUPATION
Civilian employed population 16 years and over
Management, business, science, and arts occupations
Service occupations
Sales and office occupations
Natural resources, construction, and maintenance occupations
Production, transportation, and material moving occupations
INDUSTRY
Civilian employed population 16 years and over
Agriculture, forestry, fishing and hunting, and mining
Construction
Manufacturing
Wholesale trade
Retail trade
Transportation and warehousing, and utilities
Information
Finance and insurance, and real estate and rental and leasing
Professional, scientific, and management, and administrative and waste management services
Educational services, and health care and social assistance
Arts, entertainment, and recreation, and accommodation and food services
Other services, except public administration
Public administration
CLASS OF WORKER
Civilian employed population 16 years and over
Private wage and salary workers
Government workers
Self-employed in own not incorporated business workers
Unpaid family workers
INCOME AND BENEFITS (IN 2010 INFLATION-ADJUSTED DOLLARS)
Total households
Less than $10,000
$10,000 to $14,999
$15,000 to $24,999
$25,000 to $34,999
$35,000 to $49,999
$50,000 to $74,999
$75,000 to $99,999
$100,000 to $149,999
$150,000 to $199,999
$200,000 or more
Median household income (dollars)
Mean household income (dollars)
With earnings
Mean earnings (dollars)
With Social Security
Mean Social Security income (dollars)
With retirement income
Mean retirement income (dollars)
With Supplemental Security Income
Mean Supplemental Security Income (dollars)
With cash public assistance income
Mean cash public assistance income (dollars)
With Food Stamp/SNAP benefits in the past 12 months
Families
Less than $10,000
$10,000 to $14,999
$15,000 to $24,999
$25,000 to $34,999
$35,000 to $49,999
$50,000 to $74,999
$75,000 to $99,999
$100,000 to $149,999
$150,000 to $199,999
$200,000 or more
Median family income (dollars)
Mean family income (dollars)
Per capita income (dollars)
Nonfamily households
Median nonfamily income (dollars)
Mean nonfamily income (dollars)
Median earnings for workers (dollars)
Median earnings for male full-time, year-round workers (dollars)
Median earnings for female full-time, year-round workers (dollars)
PERCENTAGE OF FAMILIES AND PEOPLE WHOSE INCOME IN THE PAST 12 MONTHS IS BELOW THE POVERTY LEVEL
All families
With related children under 18 years
With related children under 5 years only
Married couple families
With related children under 18 years
With related children under 5 years only
Families with female householder, no husband present
With related children under 18 years
With related children under 5 years only
All people
Under 18 years
Related children under 18 years
Related children under 5 years
Related children 5 to 17 years
18 years and over
18 to 64 years
65 years and over
People in families
Unrelated individuals 15 years and over



These data are estimates centric to mid-2009 based on the American Community Survey. ZIP Code Areas (ZCA) are comprised of Census 2010 census blocks. These data are structured as 4 CSV files, each with one record per ZIP Code Area and contain the ZIP code followed by items listed in above scroll boxes. The CSV files may be used directly with ProximityOne S&O Desktop as well as Excel 2007 and later.

View/rank/query/compare ZCA demographic-economic data using interactive ranking tables.
ACS 2011 Estimates:
• General Demographics
• Social Characteristics
• Economic Characteristics
• Housing Characteristics

ACS 2012 Estimates:
• General Demographics
• Social Characteristics
• Economic Characteristics
• Housing Characteristics

The U.S. national scope ACS 2011 datasets, ACS 2012 datasets and ProximityOne annual projections to 2018 datasets are available on a fee basis. Contact us for more information (mention ZIP Code area estimates and projections).

Census 2010 ZIP Code Demographic Profile Dataset

---
The ZIPDP2010 is a national scope Census 2010 ZIP Code Tabulation Area Demographic Profile dataset developed by ProximityOne that is structured as a dBase (dbf4) file. Each record in the ZIPDP2010 dataset contains the identification fields and subject matter fields described at http://proximityone.com/cen2010_zcta_dp.htm.

Contact us for more information (mention ZIPDP2010 DP Dataset in text section).

See map views illustrating use of Census 2010 & Census 2000 ZCTA geography:
-- http://proximityone.com/gallery/guide/index.htm?census2010zcta.htm

Census 2010 ZIP Code Shapefile with Integrated Demographic Profile Data

---
The ZIPDP2010 shapefile is a national scope Census 2010 ZIP Code Tabulation Area shapefile with integrated Demographic Profile data. Each record in the ZIPDP2010 dataset contains the identification fields and subject matter fields described at http://proximityone.com/cen2010_zcta_dp.htm.

Contact us for more information (mention ZIPDP2010 Shapefile w/Integrated DP Data in text section).

ZIP Code Demographics by City-Place

---
Use the ranking table at http://proximityone.com/zip-place.htm to view a city/place by ZIP code and selected associated demographics for each ZIP code portion in that city/place. Examine how split ZIP codes are split by specific place and non-place areas. Data are available as a national scope dataset.

Census 2010 ZIP Code Tabulation Areas (ZCTAs) and Places geographies are both comprised of sets of census blocks. Census block level data from the Census 2010 Summary File 1 (SF1) have been aggregated into ZIP code-Place parts to develop these data.

Contact us for more information (mention ZIP Code Demographics by City-Place in text section).

ZIP Code Demographics by Congressional District

---
Use the ranking table at http://proximityone.com/zip-cd.htm to view/analyze demographics for ZIP code sections intersecting with congressional districts. Examine how split ZIP codes are split by congressional districts of interest. Data are available as a national scope dataset.

Census 2010 ZIP Code Tabulation Areas (ZCTAs) and Places geographies are both comprised of sets of census blocks. Census block level data from the Census 2010 Summary File 1 (SF1) have been aggregated into ZIP code-congressional district to develop these data.

Contact us for more information (mention ZIP Code Demographics by Congressional District in text section).

ZIP Code Demographics by School District

---
Use the ranking table at http://proximityone.com/zip-sd.htm to view/analyze demographics for ZIP code sections intersecting with school districts. Examine how split ZIP codes are split by school districts of interest. Data are available as a national scope dataset.

Census 2010 ZIP Code Tabulation Areas (ZCTAs) and Places geographies are both comprised of sets of census blocks. Census block level data from the Census 2010 Summary File 1 (SF1) have been aggregated into ZIP code-school district to develop these data.

Contact us for more information (mention ZIP Code Demographics by School District in text section).

Tools to Analyze ZIP Code Area Demographics: Population by Single Year of Age Variants

---
Use Modeler II to analyze Census 2010 and projections of ZIP Code area population by single year of age by gender by race/ethnicity.
• Compare one or more selected ZIP Codes areas and associated study area aggregates.
• Choose from wide-ranging comparative analysis geography: census tract up.
• Flexibly examine age groups of key interest.
• Examine multicultural patterns.
• Export your results of your analyses for publishing or further analysis.

... Start using M2 .. http://proximityone.com/m2/m2guide (click ZIP Code Applications in left panel).

ZIP Code Business Patterns
Use the interactive ZIP code business patterns table to examine the number of business establishments, employment and earnings by 5-digit ZIP code.
... start using ranking table.

ZIP Code to County or Metro Equivalencing
Use the interactive ZIP code equivalence table to determine the county and metropolitan area in which 5-digit ZIP codes of interest are located.
... start using ranking table.

Other ZIP Code Data Resources ...

Census 2000 5-Digit ZIP Demographic Profile Database
---
The 5-Digit ZIP (ZIP Code Tabulation Area) Demographic Profile Database is comprised of 4 dbase structured files. This set of files contains the most widely used set of approximately 550 subject matter items derived from Census 2000 summary files.

The database consists of four subject matter files containing data as organized and described in the following links.

• DP-1 General Demographics
• DP-2 Social Characteristics
• DP-3 Economic Characteristics
• DP-4 Housing Characteristics

A sample display of the data may be accessed at http://proximityone.com/p1zip.htm.

5-Digit ZIP Code Basic Demographics File
---
The national scope 5-Digit ZIP (ZIP Code Tabulation Area) Basic Demographics file record contains the following fields derived from Census 2000 Summary File 1:

USPS State Abbreviation
5-digit ZIP Code tabulation area code
Total Population (2000) N9
Total Housing Units (2000) N9
Land Area (square meters) N14
Water Area (square meters) N14
Land Area (square miles) N12.6
Water Area (square miles) N12.6
Latitude (decimal degrees) N9.6
Longitude (decimal degrees) N10.6

5-Digit ZIP Code Extended Demographics Dataset
---
The 5-Digit ZIP Code (ZIP Code Tabulation Area) Code Extended Demographics Data File is a dBase structured file that contains the Census 2000 subject matter fields as described at http://proximityone.com/dp2000et.htm (DP-1 items). Data in the extended demographics file may be used to develop profiles such as this example for ZIP Code 77027 in Houston, TX (PDF).

5-Digit ZIP Code Age-Race-Sex Demographics Dataset
---
The 5-Digit ZIP Code (ZIP Code Tabulation Area) Age-Race-Sex Demographics Dataset is a dBase structured file that contains the Census 2000 data for these categories:

Male population
Female population
Population by age for these age ranges:
0-10 years
11-17 years
18-29 years
30-39 years
40-49 years
50-59 years
60-64 years
65-74 years
75 years and over
for each of these race/ethnic categories:
Not Hispanic
White
Black
AIAN
API
Other
2+ Races
Hispanic

ZIP-Census Block Demographics and Equivalency File [goto top]
---
The ZIP-Census Block Demographics and Equivalency File enables a user to determine the set of Census 2000 census blocks that comprise a ZIP Code (ZIP Code Tabulation Area) area. The ZIP-Census Block Demographics and Equivalency File contains a record for each unique combination of a ZIP code area and census block (8.2 million geographic areas)

Each record provides geographic area measurements, latitude-longitude, and the same set of demographic data fields (DP-1 items for each census block) as contained in the Extended Demographics file.

ZIP Code Equivalence Files
The following 2010 ZIP Code (ZCTA) equivalence/relationship files are available. Contact us for details (888-364-7656).
• ZIP to County
• ZIP to County Subdivision
• ZIP to Place
• ZIP to Census Tract
• ZIP to Congressional District
• ZIP to Metropolitan and Micropolitan Statistical Areas


Support Using these Resources
Learn more about demographic economic data and related analytical tools. Join us in a Data Analytics Lab session. There is no fee for these Web sessions. Each informal session is focused on a specific topic. The open structure also provides for Q&A and discussion of application issues of interest to participants.

ProximityOne User Group
Join the ProximityOne User Group to keep up-to-date with new developments relating to geographic-demographic-economic decision-making information resources. Receive updates and access to tools and resources available only to members. Use this form to join the User Group.

Additional Information
ProximityOne develops geographic-demographic-economic data and analytical tools and helps organizations knit together and use diverse data in a decision-making and analytical framework. We develop custom demographic/economic estimates and projections, develop geographic and geocoded address files, and assist with impact and geospatial analyses. Wide-ranging organizations use our software, data and methodologies to analyze their own data integrated with other data. Follow ProximityOne on Twitter at www.twitter.com/proximityone. Contact ProximityOne (888-364-7656) with questions about data covered in this section or to discuss custom estimates, projections or analyses for your areas of interest.