---

ProximityOne Main

ZIP Code Data

ZIP Code
GIS/Mapping
Pattern Analysis

ZIP Code
Equivalence Files



ZIP Equivalence Tables
interactive applications
- ZIP-School District
- ZIP-City/Place
- ZIP-Census Tract
- ZIP-Cong District
- ZIP-County
- ZIP-Metro

Related Sections
- Situation & Outlook

- Applications Gallery
- States
- Congressional District
- School Districts
- Counties
- Cities/Places
- Tracts/Neighborhoods
- Block Groups
- Census Blocks

- Urban Areas

Demographic-Economic
Estimates-Projections

GIS Thematic Mapping
Visual Analysis Tools

Ranking Tables
National Scope
Demographic Change
2000-2010
- States
- Metros
- Congressional District
- School Districts
- Counties
- Cities/Places
- Census Tracts
ZIP Code to Census Tract Equivalence Table
Decision-Making Information

ProximityOne
information resources & solutions
(888) DMI-SOLN
(888) 364-7656






Visual demographic analysis
.. drill-down to block-intersection
.. partial list, organized by state


Phoenix Area, AZ Scottsdale, AZ Tucson, AZ Los Angeles, CA Modesto, CA Santa Clara County, CA Jefferson County/Lakewood, CO Key West, FL Forsyth County, GA Honolulu, HI Boise, ID Chicago, IL Cedar Rapids, IA Shawnee Misson/Kansas City, KS Wichita, KS New Orleans, LA Cambridge, MA Grand Rapids, MI Minneapolis, MN Jefferson City, MO Billings, MT Omaha, NE Manchester, NH Santa Fe, NM Horseheads, NY Charlotte, NC Columbus, OH Portland, OR Columbia, SC Austin, TX McKinney ISD, TX Richmond, VA Spokane, WA Milwaukee, WI




Visual analysis with ProximityOne tools
click graphic for info; hover to pause



Use ZIP Code/Census Tract demographic-economic profiles with integrated map showing patterns of neighborhood economic prosperity. See see example for ZIP code 85258. Order for any ZIP code/census tract below on this page.

Use the ZIP to tract equivalence table below to answer questions like:
• Which census tracts intersect with a ZIP code of interest?
• Which ZIP code(s) intersect with census tract(s) of interest?
• What is the population for a census tract and ZIP code combination?

Related Resources
• Census Tract Estimates &amp Projections - annual 2010-2021
.. annually updated; projections extended 5 years ahead of current year
• Census Tract Data Analytics
• Use CV XE GIS to view/map census tract/ZIP code intersecting geography
.. visually equivalence tracts & ZIP Code areas overlayed on OpenStreetMap
.. example & more information ... install CV XE GIS; view areas of interest
• ZIP Code Demographic-Economic Interactive Tables
.. general demographics .. social .. economic .. housing
• Census Tract Demographic-Economic Interactive Tables
.. general demographics .. social .. economic .. housing
• Guide to ZIP Code Area Geographic-Demographic-Economic Data Resources

Using the Interactive Table
The interactive equivalence/look-up table below shows a row for each unique combination of a Census 2010 ZIP code area (ZCTA - ZIP Code Tabulation Area) and Census 2010 census tract. The start-up view is sorted on the State-County-Tract column (StCtyTract). View ZIP codes in one state using the State selection button. To locate a ZIP code of interest, either use the Find ZIP query or sort on the ZIP code column and then scroll down the table until the ZIP of interest is located.

There are 150,806 rows in the table, each showing a unique combination of a census tract (73,057 Census 2010 tracts) and ZIP code area (33,120 Census 2010 ZCTAs). Each row represents an intersection of the specified census tract and ZIP code area and corresponds to a geographic area of one census block or more. The total population and housing units values have been derived by summing component census block values. The sum of the population column is 308,745,538, the United States Census 2010 total population.

To view maps of ZIP code and census tract areas, in context of other geography, use the CVXE GIS with shapefiles or the Census Bureau TIGER Web Map Server. The following Phoenix/Scottsdale, AZ area view illustrates the intersection of ZCTA 85258 (orange fill pattern) with census tracts (green boundaries and geocode labels). Click Find in ZIP button below table to view only these ZIP codes and corresponding tract intersections as shown in map view. The Location 1 marker (see pointer in map) is located in the area intersecting ZIP code 85258 and census tract 2168.13 (StCtyTract=04013216813).

Illustrating Intersection of ZIP Code Area 85258 with Census Tracts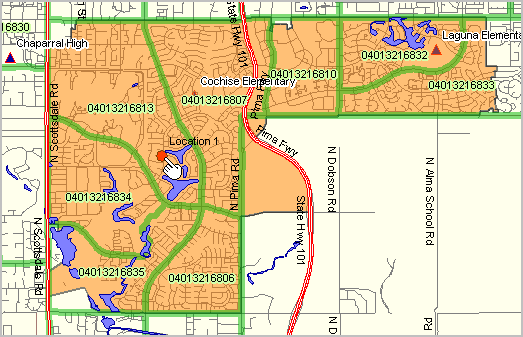 Demographic-Economic Profiles for ZIP Code 85258 and Tract 04013216813
• ZIP Code Area 85258 -- Scottsdale, AZ area
• Census Tract 04013216813 -- Scottsdale, AZ area
• Get profiles for any area: census tract, ZIP code area, city, place, school district.

Purchase ZIP Code/Census Tract Profile

Item
Description
Price
Click to Order


ZP001
ZIP Code Demographic-Economic Profile - example
profiles are sent to you by email within 1-2 hours
enter ZIP Code at right; click Add; repeat for more ZIPs
$15



Purchase ZIP Code Area to Tract Dataset: download for use with spreadsheet/other software

| | | | |
| --- | --- | --- | --- |
| Item | Description | Price | Click to Order |
| Z2T1 | ZIP Code Area to Census Tract File; Single User; Perpetual Use License | $495 | |
File content as shown in the interactive table below.

Census 2010 ZIP Code to Census Tract Interactive Ranking & Equivalence Table
Click column header to sort; click again to sort other direction.
Click ShowAll between queries.
See related Ranking Tables Main Page

Using the Interactive Ranking Table
TractCode1 and TractCode2 are variations of the census tract code; TractCode1 is 6 characters, lead zeroes, no decimal. TractCode2 is often used to display tract codes on maps. The population and housing units counts are from the Census 2010 Summary File 1.

Find ZIP. Click ShowAll button. Key in a ZIP code and click Find ZIP button (below table) to view the unique combinations of that ZIP code and corresponding census tracts.

Find State-County. Click ShowAll button. Key in a StCty code and click Find StCty button (below table) to view all ZIP Codes and census tracts in a specified county. The StCty code is the 5 character code comprised of State FIPS Code (2 characters) and County FIPS Code (3 characters). The default value 04013 is state FIPS code 04 and county FIPS code 013 (Maricopa County, AZ). A list of StCty codes is provided in the county table http://proximityone.com/countytrends.htm.

Find Tract. Click ShowAll button. Key in a StCtyTract code and click Find StCtyTract button (below table) to view the unique combinations of that tract and corresponding ZIP Codes. Use format structure shown in column 3 (StCtyTract code must be 11 characters). Get State and County codes from above description of Find State-County. Tract code must be 6 characters with lead/trailing zeroes as applicable with no dots, no spaces.

ZIP Code Equivalence Files
The following 2010 ZIP Code (ZCTA) equivalence/relationship files are available. Contact us for details (888-364-7656).
• ZIP to County
• ZIP to County Subdivision
• ZIP to Place
• ZIP to Census Tract
• ZIP to Congressional District
• ZIP to Metropolitan and Micropolitan Statistical Areas

Demographic-Economic Profile Geocodes
To order a demographic-economic profile (see above) for cities, counties or school districts, get codes to use in order form from lists provided here:
• City -- 7 character state-city code - example: the code for Houston, TX is 0100124
• County -- 5 character state-county code - example: the code for Harris County, TX is 48201
• School District - 7 character state-school district code - example: the code for Harris ISD, TX is 4823640

Go to profile form (above).

ProximityOne User Group
Join the ProximityOne User Group to keep up-to-date with new developments relating to metros and component geography decision-making information resources. Receive updates and access to tools and resources available only to members. Use this form to join the User Group.

Support Using these Resources
Learn more about small area demographic-economic characteristics, ZIP code geographic drill-down and related analytical tools. Join us in a Data Analytics Lab Session. There is no fee for these one-hour Web sessions. Each informal session is focused on a specific topic. The open structure also provides for Q&A and discussion of application issues of interest to participants.

Additional Information
ProximityOne develops geographic-demographic-economic data and analytical tools and helps organizations knit together and use diverse data in a decision-making and analytical framework. We develop custom demographic/economic estimates and projections, develop geographic and geocoded address files, and assist with impact and geospatial analyses. Wide-ranging organizations use our tools (software, data, methodologies) to analyze their own data integrated with other data. Follow ProximityOne on Twitter at www.twitter.com/proximityone. Contact ProximityOne (888-364-7656) with questions about data covered in this section or to discuss custom estimates, projections or analyses for your areas of interest.