Houston Metro Demographic-Economic Characteristics
.. tools & data; view/rank/compare/analyze conditions & trends
.. ready-to-use GIS project/datasets

Relating your data to demographic-economic characteristics and trends in a region involves more than information provided by a report or set of statistical tables. It is important to use your data to be able to identify areas of missed opportunity and competitive position. It is important to have a "10,000 foot" view as well as understanding individual neighborhoods and market/service areas. Geographic Information System (GIS) tools, with the right set of geographic, demographic and economic data can facilitate decision-making through the use of visual and tabular data analytics.

This section provides information on installing and using the Houston Metro Demographic-Economic GIS software and project/datasets. This same scope of data, tools and operation is available for any metro, state or combination.

Houston Metro GIS Project Start-up View
The following graphic shows patterns of median household income by census tract for the Houston metro area. This is the start-up view when using the GIS tools and data described below. The color patterns/intervals are shown in the highlighted layer in legend at left of map window. Use the GIS tools described below to develop thematic pattern maps for a range of data and criteria.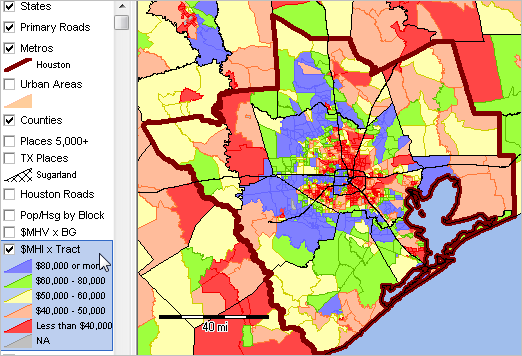 .. view developed using the CVGIS software.

See more about census tracts; see tracts main page.

Several additional views follow, developed using this same GIS project. These views illustrate different levels of geographic granularity and patterns of different subject matter.

Median Household Value by Block Group
See more about block groups; see block groups main page.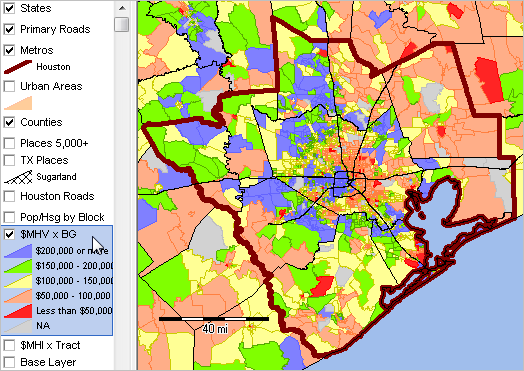 .. view developed using the CVGIS software.

Population/Housing Unit by Block
See more about census blocks; see census block main page.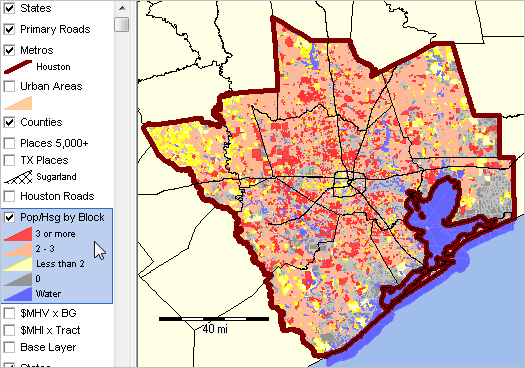 .. view developed using the CVGIS software.

Zoom-in to Sugarland/Fort Bend County
See more about cities/places; see cities/places main page.
Access data for any city using interactive table.


.. view developed using the CVGIS software.

Further Zoom-in Showing Street/Road Detail
See more about streets.


.. view developed using the CVGIS software.

Installing the GIS Software and Project/Datasets (requires Windows computer with Internet connection)
1. Install the ProximityOne CV XE GIS
... run the CV XE GIS installer
... requires UserID; take all defaults during installation
2. Download the Houston Metro GIS project fileset
... requires UserID; unzip Houston Metro GIS project files to local new folder c:\p1data
3. Open the c:\p1data\us1_metros_houston.gis project
... after completing the above steps, click File>Open>Dialog
... open the file named c:\p1data\us1_metros_houston.gis
4. Done. The start-up view is shown above.

Block Group Layer Attributes
Data are from 2015 ACS 5-year estimates unless otherwise noted.


B02001_001E >>Total:
B02001_002E >>White alone
B02001_003E >>Black or African American alone
B02001_004E >>American Indian and Alaska Native alone
B02001_005E >>Asian alone
B02001_006E >>Native Hawaiian and Other Pacific Islander alone
B02001_007E >>Some other race alone
B02001_008E >>Two or more races:
B03002_012E Hispanic or Latino
B19013_001E Median household income
B25077_001E Median value (dollars)
B11001_001E >>Total:
B11001_002E >>Family households:
B11001_003E >>Married-couple family
B11001_004E >>Other family:
B11001_005E >>Male householder, no wife present
B11001_006E >>Female householder, no husband present
B11001_007E >>Nonfamily households:
B11001_008E >>Householder living alone
B11001_009E >>Householder not living alone
B15003_001E >>Total:Educational Attainment for the Population 25 Years and Over
B15003_002E >>No schooling completed
B15003_003E >>Nursery schoolE
B15003_004E >>KindergartenE
B15003_005E >>1st gradeE
B15003_006E >>2nd gradeE
B15003_007E >>3rd gradeE
B15003_008E >>4th gradeE
B15003_009E >>5th gradeE
B15003_010E >>6th gradeE
B15003_011E >>7th gradeE
B15003_012E >>8th gradeE
B15003_013E >>9th gradeE
B15003_014E >>10th gradeE
B15003_015E >>11th gradeE
B15003_016E >>12th grade, no diplomaE
B15003_017E >>Regular high school diplomaE
B15003_018E >>GED or alternative credentialE
B15003_019E >>Some college, less than 1 yearE
B15003_020E >>Some college, 1 or more years, no degreeE
B15003_021E >>Associate's degreeE
B15003_022E >>Bachelor's degreeE
B15003_023E >>Master's degreeE
B15003_024E >>Professional school degreeE
B15003_025E >>Doctorate degreeE



Support Using these Resources
Learn more about demographic economic data and related analytical tools. Join us in a Data Analytics Lab session. There is no fee for these Web sessions. Each informal session is focused on a specific topic. The open structure also provides for Q&A and discussion of application issues of interest to participants.

ProximityOne User Group
Join the ProximityOne User Group to keep up-to-date with new developments relating to geographic-demographic-economic decision-making information resources. Receive updates and access to tools and resources available only to members. Use this form to join the User Group.

Additional Information
ProximityOne develops geodemographic-economic data and analytical tools and helps organizations knit together and use diverse data in a decision-making and analytical framework. We develop custom demographic/economic estimates and projections, develop geographic and geocoded address files, and assist with impact and geospatial analyses. Wide-ranging organizations use our tools (software, data, methodologies) to analyze their own data integrated with other data. Follow ProximityOne on Twitter at www.twitter.com/proximityone. Contact us (888-364-7656) with questions about data covered in this section or to discuss custom estimates, projections or analyses for your areas of interest.