Decision-Making Information

ProximityOne
information resources & solutions
(888) DMI-SOLN
(888) 364-7656


KC Metro School Districts
patterns of economic prosperity
by neighborhood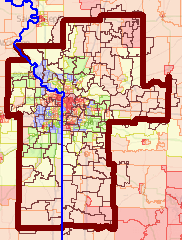 Kansas City, MO-KS Metro K-12 Analytics
... School District GeoDemographic Information System
... data analytics tools for K-12 schools & school districts

About this session ...

Presented by Warren Glimpse of ProximityOne
(703) 660-8850 ... wglimpse@proximityone.com

About ProximityOne
At ProximityOne, we build software and data to facilitate development and use of decision-making information.

About the Data Analytics Web Session
Graphics and information presented in this section illustrate use of those resources applied to the Kansas City metro with a focus on K-12 schools & school districts.

Today's session
30 minutes presentation & Q/A
School & school district planning & decision-making information
- consumable, flexible, expandable, collaborative data and data analytics tools
- providing insights for more successful K-12 education outcomes
- without new IT staff & increasing overhead.
• School District GeoDemographics Information System (SDGIS) Role & Scope
.. CV GIS -- Windows GIS software
- what is GIS - Geographic Information System
.. bundled with semi-standardized GIS project and datasets
.. session about more than SDGIS
- KC metro Outlook2030
- KC metro Census Tract Estimates & Projections to 2022
• Review Kansas City Metro & K-12 Schools section
.. show/discuss related KC metro SDGIS operation
.. brief on what is GIS - Geographic Information Systems
• Review Kansas City Public Schools section
.. show/discuss related KCPS SDGIS operation
• Review related web sections:
.. Schools & Schools District Main
.. National Children's & Schools Program
.. K-12 Schools Interactive Table
.. School Attendance Zones
.. School District Demographic-Economic Trends
.. School District Demographic-Economic Characteristics - ACS 2015/16
.. School District Sources & Uses of Funds
.. SDST1115 Grade Relevant Children by Type of Enrollment

Other topics
• CV XE GIS, related software, applications support
• Situation & Outlook applications support
• What's New and ahead

30 minutes discussion on any of above topics (or others)

Support Using these Resources [goto top]
Learn more about demographic economic data and related analytical tools. Join us in a Data Analytics Lab session. There is no fee for these Web sessions. Each informal session is focused on a specific topic. The open structure also provides for Q&A and discussion of application issues of interest to participants.

ProximityOne User Group [goto top]
Join the ProximityOne User Group to keep up-to-date with new developments relating to geographic-demographic-economic decision-making information resources. Receive updates and access to tools and resources available only to members. Use this form to join the User Group.

Additional Information
ProximityOne develops geodemographic-economic data and analytical tools and helps organizations knit together and use diverse data in a decision-making and analytical framework. We develop custom demographic/economic estimates and projections, develop geographic and geocoded address files, and assist with impact and geospatial analyses. Wide-ranging organizations use our tools (software, data, methodologies) to analyze their own data integrated with other data. Follow ProximityOne on Twitter at www.twitter.com/proximityone. Contact us (888-364-7656) with questions about data covered in this section or to discuss custom estimates, projections or analyses for your areas of interest.