Decision-Making Information

ProximityOne
information resources & solutions
(888) DMI-SOLN
(888) 364-7656






Visual analysis with ProximityOne tools
click graphic for info; hover to pause



2014 Metros: Austin-Round Rock, TX Metropolitan Area

How will the market for single family homes in the Austin-Round Rock, TX metro change over the next 5 years? 20 years? How does the metro GDP in the Austin metro compare to others? What are the patterns in metro rental income and homeownership/vacancy rates? How are they trending? We examine these types of topics in this section. Stakeholders can replicate applications reviewed here for this and other metros using ProximityOne no fee resources.

Metropolitan areas include approximately 94 percent of the U.S. population -- 85 percent in metropolitan statistical areas (MSAs) and 9 percent in micropolitan statistical areas (MISAs). Of 3,143 counties in the United States, 1,167 are in the 381 MSAs in the U.S. and 641 counties are in the 536 MISAs (1,335 counties are in non-metro areas).

Focus on Austin-Round Rock, TX MSA
This section is focused on the Austin-Round Rock, TX metro; Core-Based Statistical Areas (CBSA) 12420. It is not intended to be a study of the metro but rather illustrate how relevant decision-making information (DMI) resources can be brought together to examine patterns and change and develop insights. The data, tools and methods can be applied to any metro.



The Austin-Round Rock, TX MSA is shown in the graphic below. The 5-county metropolitan statistical area is shown with bold brown boundary; counties appear with black boundaries and county name labels. The thematic pattern shows a measure of economic prosperity (median household income: MHI) by census tract.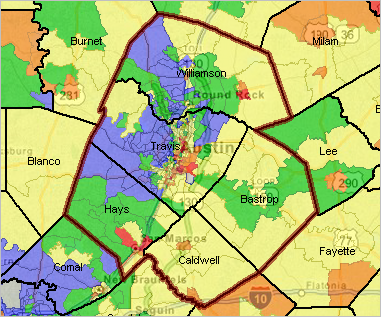 Click graphic for larger view with details; the larger view shows interval values associating MHI with income levels.
Develop variations of this map view using the Mapping Texas Neighborhood Patterns GIS resources. This view developed using the CV XE GIS.

Metro-County Geographic-Demographic Structure
The Census 2010 population of the metro was 1,716,289 (36th largest) compared to 1,883,051 (35th largest) based on the 2013 estimate. Metros of similar size include: Indianapolis-Carmel-Anderson, IN, San Jose-Sunnyvale-Santa Clara, CA, Nashville-Davidson--Murfreesboro--Franklin, TN and Virginia Beach-Norfolk-Newport News, VA-NC. See interactive table to examine other metros in a similar manner.

Click here to view a metro by county profile for the Austin metro. Click the county component links below to view annual county population estimates and components of change.
• Bastrop County (48021)
• Caldwell County (48055)
• Hays County (48209)
• Travis County (48453)
• Williamson County (48491)
• Texas statewide (48000)
Use this interactive table to view demographic attributes of these counties and rank/compare with other counties.

Population Pyramids & Age-Cohort Patterns
The graphic below shows the Census 2010 Travis County population pyramid. Click graphic to view as HTML section with related Census 2010 age-gender population distribution.
Travis County, TX; Census 2010; Total population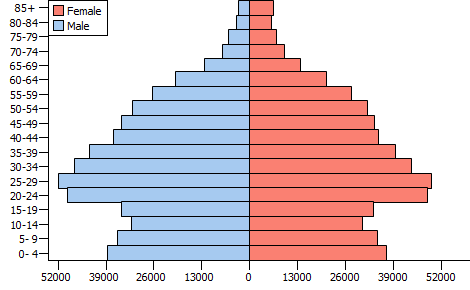 Use ChartGraphics examine population by age-gender-race/origin for any county.

Metro Demographic-Economic Characteristics
In 2012, the metro median household income was $59,433, percent high school graduates 88.1%, percent college graduates 40.5% and 15.5% in poverty.
Use the following U.S.-state-metro interactive table to view/compare/rank compare this metro with other areas:
• General Demographics -- http://proximityone.com/usstcbsa12dp1.htm
• Social Characteristics -- http://proximityone.com/usstcbsa12dp2.htm
• Economic Characteristics -- http://proximityone.com/usstcbsa12dp3.htm
• Housing Characteristics -- http://proximityone.com/usstcbsa12dp4.htm

Metro Per Capita Personal Income
In 2012, Austin-Round Rock had a per capita personal income (PCPI) of $42,902. This PCPI ranked 98th in the U.S. and was 98 percent of the national average, $43,735. The 2012 PCPI reflected an increase of 3.0 percent from 2011. The 2011-2012 national change was 3.4 percent. In 2002, the PCPI of Austin-Round Rock was $31,797 and ranked 86th in the U.S. The 2002-2012 compound annual growth rate of PCPI was 3.0 percent. The compound annual growth rate for the nation was 3.2 percent.

Metro Per Capita Income as a Percent of the United States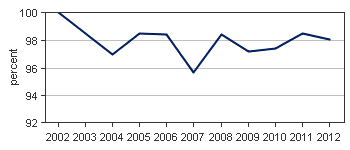 Metro Real Per Capita Personal Income
View selected Austin metro real per capita personal income (RPPI) patterns in this interactive table. The Austin metro 2012 RPPI is estimated to be $41,339. The metro ranks 127th among all 381 metros, between La Crosse, WI metro ($41,347) and Reno, NV metro ($41,329).

Metro Gross Domestic Product
View selected Austin metro Gross Domestic Product (GDP) patterns in this interactive table. The Austin metro 2012 GDP is estimated to be $98.7 billion. The metro ranks 32nd among all 381 metros, between Columbus, OH metro ($100.5 billion) and Sacramento, CA metro ($97.6 billion).

Metro Cities & Places
Click link to view profile for the metro principal cities:
• Austin
• Round Rock
View similar profile for any Texas city -- Texas Community Profiles

Metro School Districts
School districts play an important role in the metro dynamics. See more about the school district community. Examine characteristics of the school age population by type of enrollment by school district.

The largest 5 school districts in the metro are shown in this graphic:


Use this interactive table to view/rank/compare all school districts.

5-part Demographic-Economic Profiles for these Districts: (see all Texas school districts)
• Austin ISD
• Round Rock ISD
• Leander ISD
• Pflugerville ISD
• Hayes ISD

Austin ISD ranks 37th among the largest 100 U.S. school district based on the 2013-14 enrollment. See the Austin ISD focus section. Round Rock ISD is the 100th largest school district. See the Round Rock ISD focus section. See more about the largest 100 school districts.

Comparing Among All School Districts
Use the following interactive table to view/compare/rank compare school districts:
• General Demographics -- http://proximityone.com/sd12dp1.htm
• Social Characteristics -- http://proximityone.com/sd12dp2.htm
• Economic Characteristics -- http://proximityone.com/sd12dp3.htm
• Housing Characteristics -- http://proximityone.com/sd12dp4.htm

About Metropolitan Areas
By definition, metropolitan areas are comprised of one or more contiguous counties. Metropolitan areas are not single cities and typically include many cities. Metropolitan areas are comprised of urban and rural areas and often have large expanses of rural territory. A business and demographic-economic synergy exists within each metro; metros often interact with adjacent metros. The demographic-economic makeup of metros vary widely and change often. See more about metros

Using these Resources
Learn more about using resources described in this section. Join us in a Decision-Making Information Web session. These no fee, informal one-hour Web sessions focus on selected specific topic. The open structure provides for Q&A and discussion of application issues of interest to participants. We can address your specific questions about using metro, county and geographic drill-down demographic economic data and related applications.

Additional Information
ProximityOne develops geographic-demographic-economic data and analytical tools and helps organizations knit together and use diverse data in a decision-making and analytical framework. We develop custom demographic/economic estimates and projections, develop geographic and geocoded address files, and assist with impact and geospatial analyses. Wide-ranging organizations use our tools (software, data, methodologies) to analyze their own data integrated with other data. Follow ProximityOne on Twitter at www.twitter.com/proximityone. Contact ProximityOne (888-364-7656) with questions about data covered in this section or to discuss custom estimates, projections or analyses for your areas of interest.