Redistricting Resources and Operations
-- creating balanced congressional and state legislative districts
-- transitioning from Census 2010; preparing for Census 2020
-- illustrative applications

Reapportionment, redistricting and the decennial census ... Article 1, Section 2, of the United States Constitution states: "Representatives and direct taxes shall be apportioned among the several States which may be included within this Union, according to their respective Numbers ... The actual Enumeration shall be made within three Years after the first Meeting of the Congress of the United States, and within every subsequent Term of ten Years, in such Manner as they shall by Law direct." To implement reapportionment, laws and procedures have been enacted to perform redistricting. See more below.

Tools, data and methods for use in examining existing redistricting plans and developing new/alternative redistricting plans are reviewed below. The focus of this section is on the use of decennial census geographic and demographic data and redistricting for:
• state by congressional district (CDs)
• state by state legislative district SLDs)
• city by ward

These illustrative applications are focused on the St. Louis, MO metro. The CV XE GIS software is used with a GIS project and related datasets. These same tools, data and procedures may be applied to any state/area/region and other types of political/statistical geography (cities, school districts, sales territories) as reviewed below.

St. Louis, MO Area -- study area lay of the land
The focus of these applications is on the Florissant, MO city area (orange fill pattern im graphic below) located in St. Louis County (bold black boundary). Other cities are shown with a green fill pattern. The focus is initially within 115th Congressional District MO01 or 2901 (see label in graphic).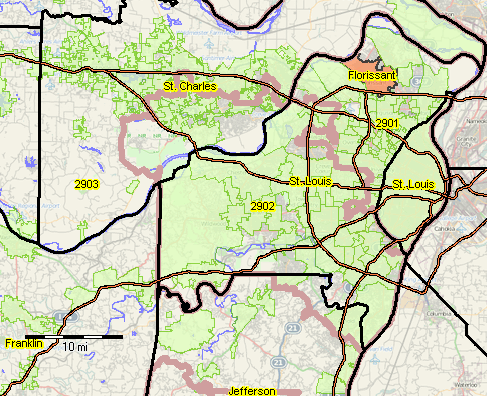 - view created with CV XE GIS software and related GIS project.



State Legislative Districts -- Lower Chamber -- goto top
The following drill-down view shows the Florissant city boundary more clearly (salmon semi-transparent fill pattern). State legislative districts - lower (SLDL) are shown with the blue bold boundary.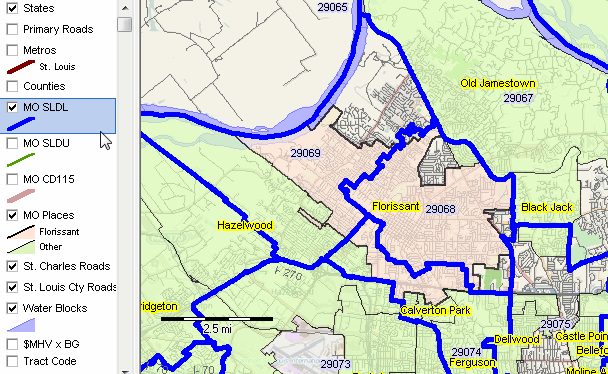 - view created with CV XE GIS software and related GIS project.

State Legislative Districts -- Upper Chamber -- goto top
The following similar shows State legislative districts - upper (SLDU) are shown with the green bold boundary.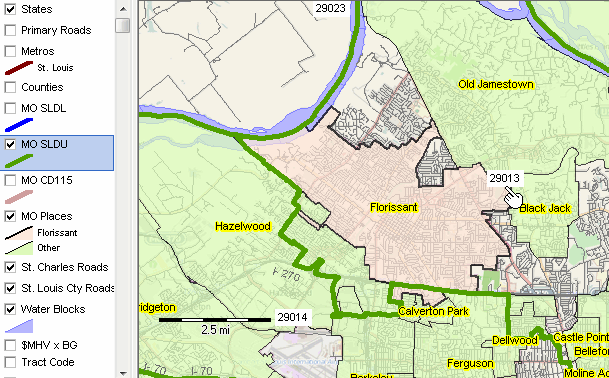 - view created with CV XE GIS software and related GIS project.

Patterns of Neighborhood Economic Prosperity & House State Legislative Districts -- goto top
View of extended St. Louis County showing SLDLs with blue bold boundary and patterns of median household income by census tract. See more about tracts.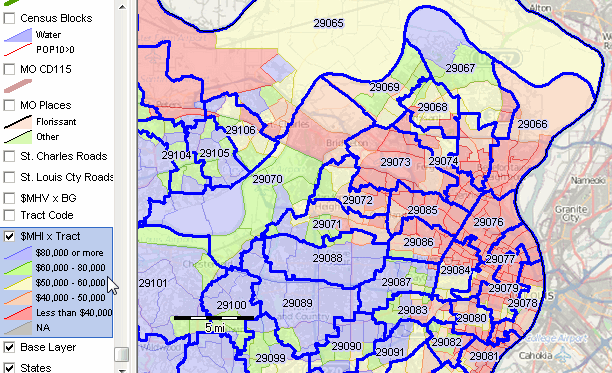 - view created with CV XE GIS software and related GIS project.

Examining Census Block Demographics & State Legislative Districts -- goto top
A further drill-down view is shown in the next graphic. This view shows the northern part of Florissant city (salmon fill pattern), unincorporated area (no fill pattern), and the SLDL blue bold boundary between the SLDL 29069 and SLDL 29068. Census blocks (see more about census block data) are shown with a red boundary and labeled with the Census 2010 total population.


- view created with CV XE GIS software and related GIS project.

Examining Census Block Group Demographics in Context of City -- goto top
The next graphic shows block groups (BGs) with bold black boundary, labels with Census 2010 population. See more about block group data. BGs are shown in context of cities. BGs are often split by city/place boundaries. See example at pointer. Unless block components are analyzed, there is no way to determine the demographics of the split BG parts. Click graphic for larger view showing population label and BG geocode.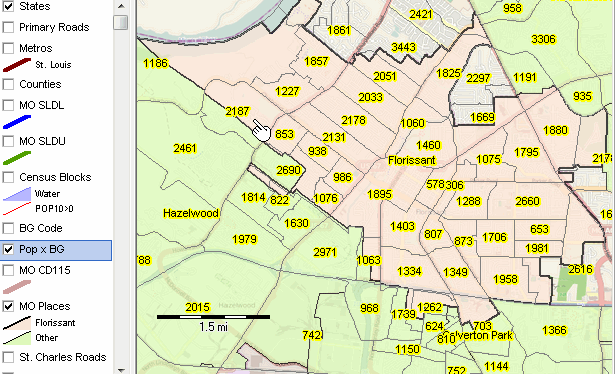 - view created with CV XE GIS software and related GIS project.

Accessing More Detailed Block Data using API Tools -- goto top
Use API tools to access/download census block demographics. As an example, there are 18,747 Census 2010 census blocks in St; Louis County, MO. Access more detailed demographics and integrate those data into the GIS project to factor in demographic data on gender, race, origin and other topics.

Click this link to access/download demographic data for all St. Louis County Census 2010 census blocks
https://api.census.gov/data/2010/sf1?get=P0010001,P0030002,P0030003&for=block:*&in=state:29%20county:189

Modify the above URL to include different state and county FIPS codes to access/download these data for any county. The above example displays a new page showing a CSV-like file that can be saved for further use. This example shows a row for each census block with these three subject matter items:
- P0010001 - total population
- P0030002 - population of one race, White alone
- P0030003 - population of one race, Black alone
Choose your own items from this list.

Census 2010 Census Block Demographics by City -- goto top
Cities are comprised of a set of census blocks. To examine political areas of a city, such as wards, it is necessary to develop/determine the set of census blocks comprising the city. As an example, Florissant City, MO is comprised of 834 Census 2010 census blocks. The list of these census block geocodes is contained in this zip file The zip file contains the two files sf1_geo_mo_place24778.dbf and sf1_geo_mo_place24778.xls, each having the same number of records and content. The block level records were extracted from the Missouri Census 2010 Summary File 1 geoheader record. A text list of 15 character geocodes may be derived from this file (either) and used as a geography selection list with the ProximityOne Demographic Economic Data Extraction ( DEDE) software. Use this API tool to create a new a subject matter file containing any subject matter from Census 2010 SF1 for these blocks.

Other Topics to Be Added -- goto top
- Using the TIGER Line shapefiles
- Adding/analyzing voter data
- Adding/analyzing voting precincts.
- Using the block group CVAP data - citizen voting age demographics

Reapportionment, Redistricting and the Decennial Census -- goto top
.. under development


Support Using these Resources
Learn more about demographic economic data and related analytical tools. Join us in a Data Analytics Lab session. Each informal session is focused on a specific topic. The open structure also provides for Q&A and discussion of application issues of interest to participants.

ProximityOne User Group
Join the ProximityOne User Group to keep up-to-date with new developments relating to geographic-demographic-economic decision-making information resources. Receive updates and access to tools and resources available only to members. Use this form to join the User Group.

Additional Information
ProximityOne develops geographic-demographic-economic data and analytical tools and helps organizations knit together and use diverse data in a decision-making and analytical framework. We develop custom demographic/economic estimates and projections, develop geographic and geocoded address files, and assist with impact and geospatial analyses. Wide-ranging organizations use our software, data and methodologies to analyze their own data integrated with other data. Follow ProximityOne on Twitter at www.twitter.com/proximityone.